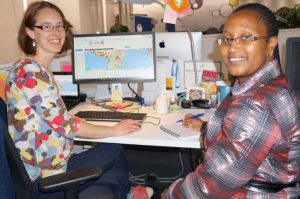 IHI scientist wins Oxford grant
Dar es Salaam, June 5 2017. IHI Research Scientist, Dr. Deborah Sumari, has been named recipient of the prestigious "Africa Oxford Initiative Travel Grant". The news of her milestone was unveiled in Oxford, United Kingdom, recently.
Together with Dr. Georgina Humphreys, her collaborator at the WorldWide Antimalarial Resistance Network based at the University of Oxford, Dr. Sumari (pictured-right) is working on a project to map molecular markers of antimalarial drug resistance in Tanzania.
Learn more about this prize in her interview with 'AfOx' here: youtu.be/2s3o6gdno08 
Read more about Dr. Sumari in her profile here: http://ihi.or.tz/staff/dr-deborah-sumari/ and her research interests and some of her publications here: https://www.researchgate.net/profile/Deborah_Sumari