IHI researcher secures Swiss govt excellence scholarship
Dar es Salaam, June 14, 2017. Ifakara Health Institute (IHI) Research Scientist Yeromin Mlacha (pictured) has secured the Swiss Government Excellence Scholarship (ESKAS) for a three-year PhD in Epidemiology set to start in September in Basel, Switzerland. The title of his proposed research project is: Identifying, characterizing and targeting the reservoir of malaria transmission in Southern Tanzania through innovative high-resolution community-based mapping.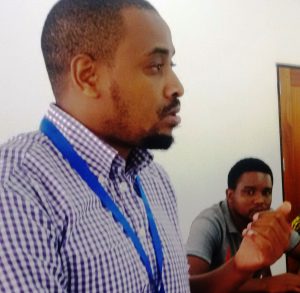 "The motivation of doing this study came after completion of my Wellcome Trust Masters Fellowship where I investigated how routine HF data can be used for mapping spatial heterogeneities in malaria transmission at the level of local government housing cluster administrative units," says Yeromin, adding:
"Findings of the study showed that recording simple points of reference that community members can readily relate to during routine health facility visits , such as the identities of their neighborhoods, can be used for mapping malaria infection burden on very fine geographic scales. Get more about his study here: http://geospatialhealth.net/index.php/gh/article/view/494
According to Yeromin, his Master's study had two major limitations that needed further investigation before recommending to National Malaria Control Programme for application: The use of only a single public facility clearly limited the coverage, completeness and statistical power, so much larger scale and longer-term evaluations. "Another limitation is that, the study did not include the spatial-temporal analysis of malaria clusters which is very important when considering implementation of targeted interventions," he adds.
The primary supervisor of Yeromin in his PhD project is IHI Senior Research Scientist Dr. Prosper Chaki and Prof. Marcel Tanner from University of Basel. Commenting on Yeromin's success, Dr. Chaki says, "Congratulations Mlacha, well deserved and happy to see you building on your career."
Mr. Mlacha is a Research Scientist in the Environmental Health and Ecological Sciences Department at IHI. He graduated from University of Dar es Salaam in 2007 with a BSc in Wildlife Science and Conservation, and obtained an MSc in Biology and Control of Parasites and Disease Vectors, from Liverpool School of Tropical Medicine, UK, in 2012.
Read his profile here: http://ihi.or.tz/staff/mr-yeromin-mlacha/
If you would like to know more about Yeromin's research interests and publications, follow this link: https://scholar.google.com/citations?hl=en&user=&user=m1HAiYwAAAAJ