Malaria in children showing no symptoms raises concerns
Dar es Salaam. June 16, 2017.  Researchers at Ifakara Health Institute have detected a substantial amount of parasites in children without any symptoms of malaria at Kiwangwa – a popular business centre located a few kilometres from Bagamoyo Town. They now call for detection and treatment of both symptomatic and asymptomatic malaria in the area.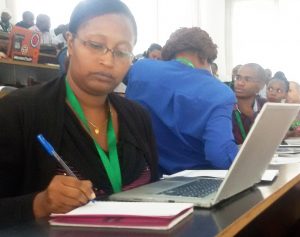 Parasites in 'healthy' children
A recent study conducted by Dr. Deborah Sumari (pictured) and five other collaborative scientists, whose results were published in the latest edition of the international open access Malaria Journal, indicate that up to 57% of children tested who didn't show any symptoms were found with a malaria parasite known as plasmodium falciparum.
As expected, the same study found 89% prevalence in children showing symptoms of malaria. Other researchers who worked with Dr. Sumari in the study are: Felista Mwingira, Majige Selemani, Joseph Mugasa, Kefas Mugittu, and Paul Gwakisa.
"Notably, the higher gametocytaemia observed in asymptomatic [showing no any malaria symptoms] children indicates the reservoir infections and points to the need for detection and treatment of both asymptomatic and symptomatic malaria," Dr. Sumari says.
A total of 400 school-age children were tested – 200 from Kiwangwa Dispensary and 200 from nearby schools – in a cross-sectional survey aimed to assess malaria prevalence in both children showing symptoms and those without any symptoms. "Primary health parameters were examined and blood samples collected were examined for plasmodium falciparum prevalence in that area which was considered a low transmission setting," she notes.
'Use molecular tools'
Meanwhile, the scientists have registered their concerns on the tools used to test malaria after the same study also recorded "a substantial difference in prevalence" in the different methods they applied to test malaria parasites in children's blood.
They say, the huge difference suggests that the current diagnostic tools, particularly those used routinely such as microscopy producing low level detection limits of parasites prevalence where more advanced tools give high prevalence, should be looked at again with a view to improve detection of parasites.
According to Dr. Sumari, the tools they used are Rapid Diagnostic Test (RDT), light microscopy (LM) and Reverse Transcription quantitative PCR (RT-qPCR), and the overall results for each tool were 73.3% on RT-qPCR, 40.8% on RDT and 36.3% on LM.
"A substantial difference in prevalence of symptomatic and asymptomatic infections observed in Kiwangwa ward underpins the use of molecular tools in malaria surveillance aiming at estimating prevalence and transmissions," she urges.
More on study, malaria
Malaria prevalence continues to decline across sub-Saharan Africa as a result of various intervention strategies. However, the disease still poses a public health concern in the region. While symptomatic malaria is recognized and treated, asymptomatic infections become increasingly important for interrupting transmission.
A cross-sectional survey was conducted to assess malaria prevalence in symptomatic and asymptomatic children at Kiwangwa Ward in Bagamoyo District, Tanzania recently.
Latest World Health Organization (WHO) reports indicate that malaria continues to be one of the most significant mosquito-borne parasitic diseases, affecting about 212 million people, causing 429,000 deaths annually and adversely affect socioeconomic development in sub-Saharan African countries.
The report further highlights the success toward malaria control, showing that there has been a decline in malaria burden, and that morbidity worldwide has been reduced by 21% and mortality by 29% between 2010 and 2015. However, sub-Saharan Africa still accounts for approximately 92% of all malaria deaths and cases.
Get more details about the study here: https://malariajournal.biomedcentral.com/articles/10.1186/s12936-017-1870-4
More on Dr. Sumari
Dr. Sumari is a Research Scientist and Deputy Head of Interventions and Clinical Trials at IHI. Recently, she was named recipient of the Africa Oxford Initiative Travel Grant. She shares the grant with Dr. Georgina Humphreys, her collaborator at the WorldWide Antimalarial Resistance Network (WWARN) based at the University of Oxford in which the two are working on a project to map molecular markers of antimalarial drug resistance in Tanzania.
Dr. Sumari is a molecular biologist. She joined IHI in 2004.
Read her profile here: http://ihi.or.tz/staff/dr-deborah-sumari/ and learn more about her research interests and publications here: https://www.researchgate.net/profile/Deborah_Sumari