(Dar es Salaam, Sept. 7, 2017). An increasing number of countries in sub-Saharan Africa are moving towards malaria-elimination, mostly thanks to successful vector control campaigns. However, elimination has p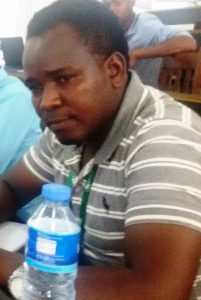 roven challenging, resulting in the persistence of malaria transmission.
It is now accepted that in order to eliminate malaria, new complementary vector control approaches must be developed. IHI Research Officer Frank Tenywa was part of a study which describes the development of a sugar-baited resting place containing a toxic dose for the control of malaria-causing mosquitoes.
Other researchers behind this study, whose paper was published recently in the Malaria Journal [you may wish to read it all here: http://rdcu.be/u1xM] are: Dr. Marta Ferreira Maia, Dr. Adam Saddler and Athumani Kambagha.
This is how Tenywa (pictured), in simplest terms, explained about the new tool in an interview with the BBC on August 24.
On the same day, Dr. Nico Govella talked to BBC's Africa Today evening show. Follow the program to learn more about the study: https://www.stitcher.com/s?eid=51232727&autoplay=1