World Rabies Day 2017: Let's aim zero human deaths by 2030
World Rabies Day is the first and only global day of action and awareness for rabies prevention. Created and coordinated annually by the Global Alliance for Rabies Control (GARC) on September 28th, World Rabies Day, focuses on rabies endemic countries, to increase community awareness of the disease and its prevention. The Day also raises the profile of national and local control programmes and acts as a springboard for year-round capacity building and awareness.
Rabies: Zero by 30
This is the theme for this year. At the global conference on rabies elimination in 2015, a common goal of zero human deaths from canine rabies by 2030 was agreed by the World Health Organization, World Organisation for Animal Health, UN Food and Agriculture Organization and GARC.  In support of this goal, the 2017 World Rabies Day theme is – Rabies: Zero by 30.
What IHI is doing
IHI has been in the fore front of rabies research through a project funded by Wellcome Trust and run in partnership with the University of Glasgow. Get more details from here: http://ihi.or.tz/project/assessing-the-progress-towards-rabies-elimination-from-pemba-island-tanzania/. Scientists of the Institute: Joel Changalucha [profile: http://ihi.or.tz/staff/joel-changalucha/ ] and Kennedy Lushasi have been actively involved in researching on the subject.
Events in Tanzania
World Rabies Day is mar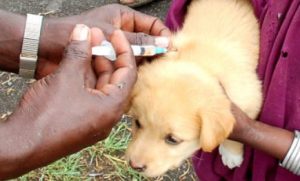 ked in zones.
Central zone: rabies vaccination campaign – 28 September 2017 to 25 October 2017).
Northern zone: Let's make Arusha a safer city campaign – 24 September 2017 to 30 September 2017.
Western zone: Mbwa wa Africa Animal Rescue – 1 September 2017 – 4 October 2017.
Super simple way to get involved
Sign the pledge to end rabies by 2030 here: https://endrabiesnow.org/take-action
More resources on World Rabies Day
More good stuff on the Day can be found here: https://rabiesalliance.org/world-rabies-day. IHI scientist, Changalucha, shared a niece piece on efforts geared to eliminate rabies, get it from here: http://m.huffpost.com/us/entry/us_591f2809e4b07617ae4cbb8f/amp
#