(Dar es Salaam) Ifakara Health Institute (IHI) seasoned researcher and former Deputy Director Dr. Godfrey Mbaruku, who died at his Mbezi Beach home on Sunday September 2, 2018 has been laid to rest at the Kinondoni Cemetery in Dar es Salaam today.
IHI Chief Executive Director, Dr. Honorati Masanja, led staff of the Institute who joined Dr. Mbaruku's children, close families and friends as well as neighbors in burying the man they adored and worked with for many years. Dr. Masanja and some staff were given the honor of laying their wreaths on the grave amid a sombre mood.
News on the death of Dr. Mbaruku was first broke to IHI staff by IHI chief human resources and operations officer Martha Baare in her brief email to all staff on Sunday September 2, 2018.
"My hands are trembling as I'm writing this email to you now. We have received very shocking news that Dr. Mbaruku has left us. More details will be availed later," reads Baare's email in part. Information obtained later, indicated that the researcher died at his Mbezi Beach home and was to be buried at the Kinondoni Cemetery in Dar es Salaam on a Wednesday of September 5, 2018.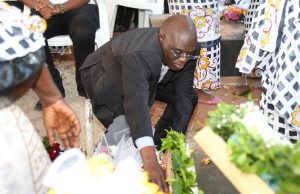 Born in Tanga in 1954, Dr. Mbaruku (pictured) was an Obstetrics and Gynecology specialist with over 30-year experience as a medical doctor. Since 2004, he has served as Vice President of the National OBGYN Society (AGOTA).
Dr. Godfrey received most of his training at the University of Dar es Salaam, and completed his PhD at Karolinska Institute in Sweden in 2005. He has worked in the fields of reproductive health, maternal and neonatal health, primary care and management of health services.
As both a clinician and trainer, he has played a key collaborative role with local and international organizations in project development, teaching, monitoring and evaluation. As part of these efforts, he has worked tirelessly on behalf of local populations, as well as a huge number of refugees from neighboring countries.
In June 2010, The Lancet profiled Godfrey as "An Early Hero of Modern Maternal Health." In that profile, Ann Starrs, President of Family Care International noted: "Godfrey was one of the first heroes of the modern maternal health movement.
In Kigoma, he saw the deplorable conditions, and high rate of maternal death, then set about addressing the factors that were causing these problems in a methodical, step-by-step way that was consultative, motivating for staff, sustainable, and highly effective. He showed the way by quiet leadership and inspiration. #
View Dr. Mbaruku's Research Interests and Publications
Recent projects
Recently, he was involved in a number of research projects. They include:
Afrique One African Science Partnership for Intervention Research Excellence Read more
Priority indicators of care for mothers and newborns around the time of birth Read more
Expanded quality improvement for maternal and newborn health using information power Read more
Unmanned aerial vehicles to improve medical delivery in rural and remote communities Read more
Improving obstetric care using non-pneumatic anti-shock garment & closed-user group mobile phones services Read more