(Morogoro) Ifakara Health Institute was among institutions which formed 'the dream team' that was picked by judges as the second best exhibitor at the Farmers' Show for eastern zone exhibitors in Morogoro.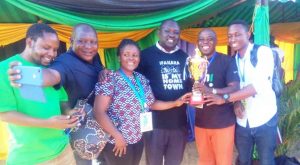 After assessing exhibitors at the show – known widely as "Nane Nane" – judges, who did their job secretly, selected Ifakara Town Council as the second best, just behind the winners, Mvomero District Council.
Exhibitors were assessed in groups of participating councils, and IHI, which was represented by scientists from the Ifakara Branch, was part of the Ifakara Town Council team that scooped the second place. Livestock and Fisheries Development minister Luhaga Mpina, who graced the closing ceremony on Wednesday August 8, presented them with a trophy.
Who from IHI was there?
A team of IHI scientists and other staff from Ifakara Branch, led by the Head of IHI labs Faraji Abilahi, joined other exhibitors in celebrating the victory while holding up the runners up trophy at Nane Nane grounds in Morogoro.
Others in the IHI team which participated in the show are: Research officers Winfrida Mponzi, Salum Mapua, and George Sikalengo; and driver Dunstan Liyumba. They were joined by the Communications officer Bilal Aziz, who travelled from Dar es Salaam for the show.
Councils participating in the Nane Nane's Eastern Zone event are those found in the regions of Dar es Salaam, Coast, Tanga and the host, Morogoro. IHI participated in the country's annual grand farmers' event for two days – August 7 and 8.
How was it won?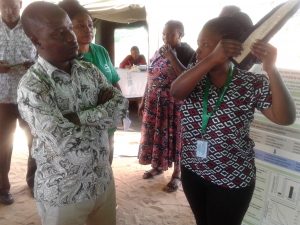 IHI participation brought in diversity with the health research portfolio and innovations meant to make and keep farmers' healthy – a diversity that many other councils participating in the show lacked.
Ifakara Council chairman and town mayor Mashaka Mbilinyi had just sensed that a few hours before winners were announced when he visited the IHI exhibition stand.
He said: "Your participation has brought in diversity that I don't think other councils have. I haven't visited all exhibition stands, but what you guys from IHI have brought to this show this year is unique."
The mayor, who was giving remarks after visiting the IHI stand pitched in the Ifakara Town Council exhibition zone, was optimistic that IHI participation brought in something important that more people should know and realize that the agricultural sector can only thrive if farmers are healthy.
Why IHI was there?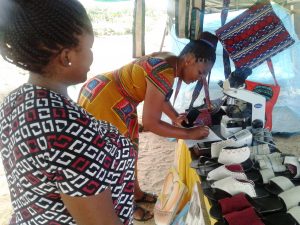 IHI participated in the show to explain to the stakeholders what it does and to showcase its innovations including sandals, ribbons and bags designed to scare away mosquitos. This is in line with the institute's long-term strategy to engage with stakeholders it works with and the people it serves.
This kind of engagement is crucial in the sense that farmers need a better health to perform their duties effectively. IHI being a leading health research outfit studying diseases such malaria, TB and HIV, it needs to engage with farmers in order to fulfill its mission of improving the health and wellbeing of the people.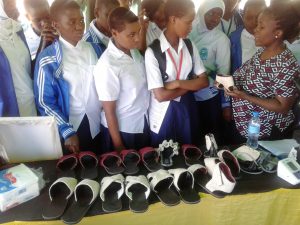 The IHI exhibition stand attracted visitors from Ifakara, Kilosa, Tanga, Morogoro town itself, Mvomero, Ngerengere, Kisaki, Dar es Salaam, and Mlali. A number of student groups also visited, notably those from Ifakara Secondary School who were received and briefed by Winfrida Mponzi. The students were so excited about the innovation of sandals that can scare away mosquitoes.
Background: Nane Nane Day
Nane Nane Day on 8 August celebrates to recognize the important contribution of farmers to the national Tanzanian economy. Nane Nane means "eight eight" in Swahili, the national language of Tanzania (and of Tanganyika and Zanzibar, the two countries whose union created the United Republic of Tanzania in 1964).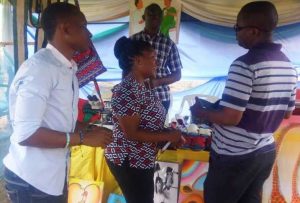 Nane Nane also may refer to the Agricultural Exhibition, a one-week fair that takes place every year around this date [8/8] in varying locations of Tanzania.
In the Nane Nane Agricultural Exhibition, farmers and other agricultural stakeholders (such as universities and research institutes, input suppliers or fertilizer producing industries) showcase new technologies, ideas, discoveries and alternative solutions concerning the agricultural sector. Nane Nane is a fair where government and private firms present their services and activities to the public.
Every year the national Nane Nane show takes place in different locations, for example in Simiyu (this year), while there are also regional Nane Nane shows held in seven zones, namely: Arusha for Northern Zone; Eastern in Morogoro; Lake in Mwanza; Highlands in Mbeya; Southern in Lindi, Mtwara or Songea; Western in Tabora; and Central in Dodoma. (Background source: Wikipedia) #