Background: Ifakara Health Institute (IHI) is a leading research organization in Africa, with a strong track record in developing, testing and validating innovations for health. Driven by a core strategic mandate for research, training and services, the institute's work now spans a wide spectrum, covering biomedical and ecological sciences, intervention studies, health-systems research, impact evaluation and policy translation.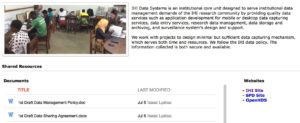 Data systems and platforms: High-quality data is the necessary ingredients for producing high quality statistics and deliver proper research outcomes. It also results in efficient data analysis and data sharing while also guaranteeing the value of the data. At IHI, we exercise multiple approaches in order to ensure that we collect high quality data. Among them includes completeness, correctness, timeliness and accuracy. Furthermore, we also employ the use of technology in order to improve our efficient and quality of the data we collect. We have multiple projects concurrently running (ranging from small to big size datasets).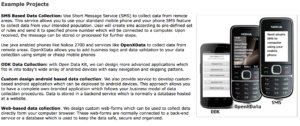 We have institutional coordinated data management unity which also provides data support and guidelines during project's lifetime. We also conduct data quality audits in our large survey data collections, which involve spot checks, site re-visit and form validations. More on IHI Data Systems and Platforms is available here or  at https://sites.google.com/a/ihi.or.tz/data-systems/
Related Work Experience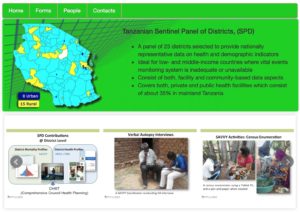 Sentinel Panel of Districts (SPD): SPD is a panel of 23 districts selected to provide nationally-representative data on demographic and health indicators. The IHI through the collaboration with MoH, had the privileged to run and coordinated activities within the SPD platform since 2009. SPD has two arms, Sample Vital registration with Verbal autopsY (SAVVY) and Facility-Based Information System (FBIS). SAVVY is a sample demographic surveillance system that provides nationally representative estimates of mortalities based on age, sex, residence and zone. SAVVY is most useful in low- and middle-income countries where vital events monitoring system is inadequate or unavailable. SAVVY covers about 2% of Tanzania Mainland population. SAVVY system is also capable of generating supplemental information from periodic surveys nested within the system. FBIS, is a system for collecting routine national health management information data. FBIS supported monthly routine data collection through district health information system (DHIS2), similarly known as government-led and routine Health Management of Information System (HMIS). FBIS has value-added components of quality control and improved data completeness. FBIS support covers all health facilities in SPD districts including both public and private, with about 35% coverage in Mainland Tanzania. SPD provides economical and a high quality platform for monitoring and evaluation, with an opportunity for fundamental and operational research, including health systems intervention and evaluation. More details about SPD, http://spd.ihi.or.tz
Tanzania HMIS (Health Management Information System) Data Quality Assessment: In 2014, IHI embarked on HMIS data quality assessment to evaluate the quality of data collected by health facilities in the 23 FBIS districts. This work involved to define data quality assessment tool and procedure and thereafter deploy the tool to sample facilities in selected districts. Results were compared to information available at districts office and DHIS2.
IHI Large Surveys
The DSS Datasets: There are two primary DSS at IHI, namely Ifakara and Rufiji DSS. The Ifakara DSS is subdivided into two DSS separately known as Urban and Rural. In each of the DSS, IHI is conducting longitudinal health and demographic population surveillance using a combination of both paper and electronic data collection tools. We observe in-migration, outmigration, pregnancy observation, pregnancy outcome, death, household social economic status, and education. The size of each DSS varies with approximate 230,243, 84,241 and 326,439 individuals in Rufiji, Ifakara Urban and Ifakara Rural respectively. Data quality audits in DSS is done through a complete site revisit, and secondary data collection by field supervisors.
SAVVY Dataset: Sample Vital registration with Verbal autopsY (SAVVY) is a system for monitoring and reporting vital events and also provides causes of death information. SAVVY uses a statistical sampling technique to produce nationally representative information about levels and causes of mortality as well as other indicators not available from routine HMIS. SAVVY covered a population of about 650,000 individuals in 150,000 households. In Tanzania, SAVVY started in October 2009 as a five-year project whose implementation began in early 2011. The main objective has been to strengthen the capacity of government to collect and use mortality surveillance data to assist in managing its national HIV/AIDS programs by expanding community-based identification and reporting of AIDS deaths. SAVVY was run by IHI in collaboration with the Ministry of Health and Social Welfare (MoHSW), National Bureau of Statistics (NBS), and National Institute of Medical Research (NIMR). More details about SAVVY, http://spd.ihi.or.tz/savvy
SARA: http://spd.ihi.or.tz/sara
Ifakara Entomology Bioinformatics System: Ifakara Entomology Bioinformatics System (IEBS) is on-going project to improve data management for diverse entomological studies from various experiments, projects, and study sites.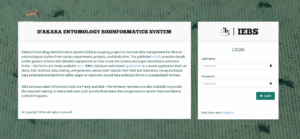 The published article provides details on the generic schema with detailed explanation on how to use the schema and paper-based data collection forms – the forms are freely available here.   IEBS's database web-based application is a secure application that can store, link, facilitate data sharing, and generate summarized reports from field and laboratory mosquito-based data collected/recorded from either paper-or-electronic based data collection forms in standardized formats. IEBS and associated informatics tools are freely available – the IHI team members are also available to provide the required training to interested users such as individual researchers/organizations and/or National Malaria Control Programs. To access the IEBS, please click here.
Key Contacts