(Dar es Salaam) South Africa's collaborators in the Leading Integrated Research for Agenda (LIRA) 2030 project visited Ifakara Health Institute (IHI) and a number of sites where the project is implemented in Dar es Salaam for the whole week – from September 23-28, 2018 – to officially introduce the study to the key stakeholders, visit project sites, observe the situation on the ground and share their experience.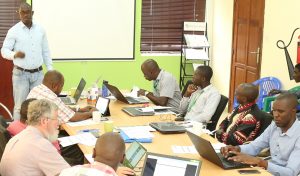 The team included Prof. Christopher Buckley of the Pollution Research Group (PRG) at the University of KwaZulu-Natal (UKZN) and Mr. Phumulani Sikhosana, a full time employee at the eThekwini Municipality in Durban, South Africa who is currently pursuing his master's degree at UKZN under LIRA project.
The collaborators conducted site visits to the Dar es Salaam suburbs of Mburahati and Miburani where the study will be implemented. On Wednesday, September 26, 2018, the project conducted a stakeholders' meeting which brought together different stakeholders from NGOs, and donors. They included community leaders, scientists, academicians and government officials supporting the WaSH ecosystem in Tanzania.
On concluding the visit,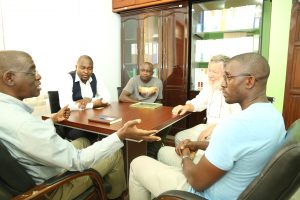 the team held a brief meeting with the IHI Chief Executive Director, Dr. Honorati Masanja and Dr. Nicodem Govella, head of the Environmental Health and Ecological Sciences Department in which operationally the LIRA project falls in.
Background: About LIRA 2030 project
This project builds on "DEWATS for Dar" project that is currently being implemented by Bremen Overseas Research and Development Association (BORDA) and IHI. The UKZN team also visited the UMAWA (Uhai wa Mazingira na Watu) DEWATS plant in Kigamboni run by Mr. Milinga, who operate the plant via business model service provision.
LIRA 2030 is run by the International Science Council together with its Regional Office for Africa and in strong partnership with the Network of African Science Academies (NASAC) and is supported by the Swedish International Development Cooperation Agency (Sida).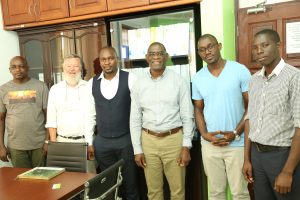 Currently, the WaSH group at IHI is hosting two active projects which are DEWATS FOR Dar and LIRA. DEWATS for Dar which is a Decentralised Wastewater Treatment System (DEWATS) aims at providing the sustainable solution for faecal sludge management in Dar es Salaam.
On the other hand, Leading Integrated Research Agenda 2030 for Africa (LIRA 2030) aims at "Integrating sustainable water and sanitation solutions to create safer, more inclusive and climate resilient cities in Tanzania and South Africa by using the transdisciplinary approach". #