(Dar es Salaam) On July 11 2018, a team of scientists and other staff supporting the 'Calcium Supplementation' study had an audience with experts and public health stakeholders at the Regional Commissioner's Office in Dar es Salaam. The study will be undertaken at 11 health facilities in the city.
Among other things, the scientists who were represented by a researcher coordinating the study, Francisca Machera, used the brief meeting to introduce the study and get initial feedback and suggestions from the stakeholders – who will play an important role of facilitating the undertaking of the study. 11,000 pregnant women will take part in the study which will run for 3 and half years.
Generally, the study seeks to cut down both the amount of dose and cost of calcium supplementations from 1500 milligrams which cost approximately TZS 1,500 to only 500 milligrams which cost TZS 500 a day.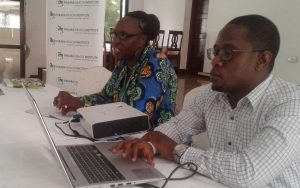 Evidence shows that calcium supplementation during pregnancy decreases the risk of developing pregnancy-related hypertensive disorders by more than a half. It also significantly reduces the risk of preterm births.
Currently, the WHO recommends pregnant women living in areas with low calcium intake consume daily calcium supplementation (1500 milligrams – 2000 milligrams) divided into three doses and preferably taken at meal times, in addition to iron folic acid once daily.
In undertaking the study, IHI has partnered with Harvard T. H. Chan School of Public Health and the Africa Academy for Public Health (AAPH). A data expert from AAPH joined the team and presented on how study data will be managed. #