(Bagamoyo, Ifakara, Dar) Ifakara Health Institute ladies marked the World Women Day with a special luncheon in Dar, special cake in Bagamoyo and a football match in Ifakara.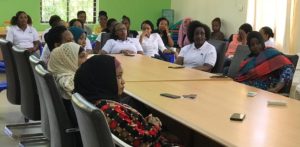 The Day is commemorated on March 8 each year and this year the theme is #BalanceforBetter – The future is exciting. Let's build a gender-balanced world.
In Dar, where the largest gathering was witnessed, IHI women serving in different positions, got lunch together, in a colorful event that was highlighted with motivation speeches on women affairs.
In Bagamoyo, the ladies, led by Dr. Sarah Moore and Rose Philipo enjoyed a special cake they shared with other staff, including men. And in Ifakara, a young woman scientist, Anna Nyuri, reports that a women football match was staged to mark the day.