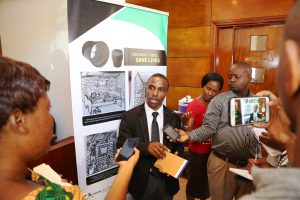 (Dar es Salaam) Ifakara Health Institute (IHI) researchers working in the Eave Tubes for Malaria Elimination in Peri-Urban Tanzania (Met) Project share in Dar es Salaam today results of a study known as "Eave Tubes" technology which is primarily designed not only to prevent mosquitoes from entering houses but also kill them.
Principal Investigator (PI) of the project, Dr. Ladslaus Mnyone along with Research Scientists Dr. Issa Lyimo,  Valeriana Mayagaya and Stella Kessy, give out results of the study before a gathering of public health stakeholders, among them Dr. Mpoki Ulisubisya, the Permanent Secretary in the Ministry of Health, Community Development, Gender, Elderly and Children.
The study was undertaken from 2012 – 2018 at Mbweni suburb in Dar es Salaam and Mikese in Morogoro focusing on key challenges facing malaria intervention generally at the moment: dealing with the problem of resistance and affordability of technologies used to fight against malaria causing mosquitoes.
The team of scientists from IHI in collaboration with the In2Care, Netherlands under the sponsorship of the European Union, UK Aid through the Human Innovation Development Fund (HDIF) and Bill and Melinda Gates Foundation supported the study.
In a nutshell, the technology comprises of "Eave Tubes" and removable gauze inserts placed in the wall under the roof of houses where they attract malaria mosquitoes at night, block them from entering the house, contaminate and kill them with insecticides. #