Ifakara Health Institute guest house is located in Ifakara town within the IHI compound. It is about 40 Km away from Udzungwa national park, within a day's drive from the Selous game reserve and Mikumi national park.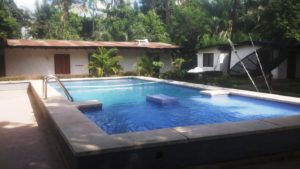 We offer unrivaled hospitality, and great convenience for visitors in Ifakara, at very affordable prices. Guests have free access to a well maintained swimming pool, wonderful silent rooms and restaurants. We have several self-contained and air conditioned bedrooms with Television and WiFi access
Guests have free access to a well maintained swimming pool which is very close to bed rooms and restaurant. We have self-contained, air conditioned rooms with, cable TV and wifi access.
A restaurant, serving delicious Tanzanian and other cuisines, is also available. Guests with special dietary needs are well taken care of as long as they inform the management in advance.
Our guest house also provides reliable 24/7 security for all guests. Catering and laundry service is also available at affordable price.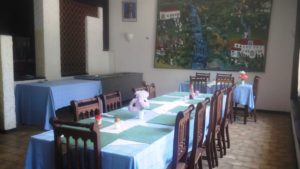 We are 420km away from Dar es Salaam, but readily accessibly by road (6-8hr drive, partly through the lovely Mikumi National Park), by train (the TAZARA train line between Dar es Salaam and Lusaka goes via Ifakara), or by air (Guests can either take the scheduled Auric Air flights between Dar es Salaam and Ifakara, or use chatter flights).
In addition to the short-stay guest houses, IHI also offers a variety of residence accommodation for longer stay visitors and also for staff and collaborators. The residences consist of fully furnished 2-3 bedroom houses conveniently located close to IHI's offices.
Key Contacts: