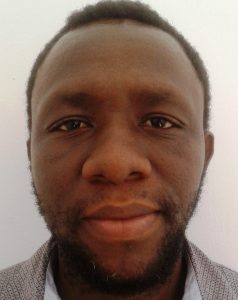 (Amsterdam) IHI Research Scientist Ramadhani Abdul has won the Prize for Excellence in Research Related to Children Affected by HIV at the AIDS Conference 2018. Abdul received the award – Biennial Prize – at the 22nd International AIDS Conference in Amsterdam, The Netherlands on Thursday. This year's event, themed 'Breaking Barriers, Building Bridges,' runs for five days from July 23-27.
"The reception ceremony went smoothly…I'm happy and I feel privileged to receive the prize on behalf of my colleagues in the Kizazi Kipya project," said Abdul in a WhatsApp call from the Netherlands capital moments after the award presentation.
"I'm particularly grateful to Dr. Eveline Geubbels who has put so much effort behind the winning abstract and my research capabilities. She is my mentor and since 2011, she has been my support and a great teacher," reported Abdul.
Commenting on the milestone earlier, Dr. Geubbels said in her notification about the award to the Communications Office: "The AIDS conference is the largest conference on any global health issue in the world. So congratulations!" "We are delighted about this prize; for the scientific recognition of course, but also because this offers a chance to highlight the high HIV and violence risk among these children and the need for broad intervention programs," she added.
The prize went to an abstract submitted for the AIDS Conference 2018 which was co-authored by Kizazi Kipya project scientists. Abdul was the first author.
About the winning abstract
Artisanal and small scale mining (ASM) communities are a high HIV-risk environment for children. Direct involvement in mining work puts girls and boys at higher risk of experiencing sexual and physical violence. Therefore, child protection and HIV programs need to target children in these communities. The findings will inform service delivery to these beneficiaries.
Where and how was this done?
These conclusions were based on a baseline research conducted in three districts of Bukombe, Chunya and Songwe in Tanzania last year. This Pact-led USAID–funded Kizazi Kipya project aims to increase uptake of HIV, health, and social services.
Specifically, it assessed the association of child labour in ASM with experience of violence, sexual risk behavior and HIV that was done through a baseline survey in ASM communities among 786 children (0-19 years) and their caregivers. The children were also offered with voluntary HIV testing and counseling.
What and where is the evidence?
The study found that sexual, physical and emotional violence had been experienced by between 11 and 80 per cent of boys and girls.
The findings clearly showed that working in mining was associated with increased experience of sexual or physical abuse, with perpetrators of the violence being strangers, relatives or neighbors. Ironically, around half of children (up to 55%) experience physical violence from their parents/caretakers.
More: About the Biennial Prize
There is an urgent need to advance the scientific understanding of paediatric HIV and the psychosocial impact of the epidemic on children in order to enhance practices of prevention, treatment and care.
With the aim of drawing the attention of the scientific community to children infected and affected by HIV and AIDS, the IAS/CCABA Prize for Excellence in Research Related to the Needs of Children Affected by AIDS was first awarded in 2010 at the XVIII International AIDS Conference in Vienna.
The name of the prize has been changed in 2012 to IAS/Coalition for Children affected by AIDS Prize for Excellence in Research Related to the Needs of Children Affected by AIDS and in 2014 to Prize for Excellence in HIV Research Related to Children.
The US$2,000 prize is jointly offered by the IAS and the Coalition for Children Affected by AIDS. One prize is awarded to an investigator whose abstract demonstrates excellence in research that is likely to lead to improved services for children affected by HIV and AIDS.
To be eligible for the prize, abstracts submitted for AIDS conferences must meet the following criteria:
1. The abstract must have been accepted as an oral presentation, poster discussion or poster exhibition by the Scientific Programme Committee.
2. Research must be related to the needs of children affected by HIV. Abstracts related only to adolescents (10 – 19 years of age) will not be considered. Research focusing on the integration of care and support is encouraged.
3. Research site must include low- or middle-income countries.
About the prize winner
Ramadhani Abdul is a statistician and epidemiologist working with the Ifakara Health Institute (IHI) based in Dar es Salaam, Tanzania. He has skills in data analysis, data management, as well as planning and designing of research studies. Also, he has computer application, software and web design skills and the ability to manage projects and people.
The author has over 10-year experience in health research, having served in different capacities as project leader, statistician, research scientist, data manager and regional coordinator for health research projects under IHI.
Abdul holds an MSc in Epidemiology (biostatistics and epidemiology) from the University of Witwatersrand in South Africa. Previously, he obtained his BSc with Computer Science specializing in computer science and statistics from the University of Dar es Salaam in Tanzania.
About Kizazi Kipya
USAID Kizazi Kipya is a five-year USAID and PEPFAR-funded project that aims to enable 1 million orphans and vulnerable children (OVC) and adolescents ages 0–19 years to access comprehensive HIV-related services and other services for improved health, nutrition, education, protection, livelihoods, and psycho-social wellbeing.
USAID Kizazi Kipya project is made possible by the generous support of the American people through the United States Agency for International Development (USAID).
Pact leads the project and is joined by consortium partners Elizabeth Glaser Pediatric AIDS Foundation (EGPAF), Aga Khan Foundation (AKF), Railway Children of Africa (RCA), and Ifakara Health Institute (IHI). #