(Masasi) A team of IHI scientists on Monday and Tuesday of July 30 and 31 2018 gathered members of the regional and district health management teams in four districts of Mtwara to discuss progress of a project being undertaken there to improve maternal and newborn health.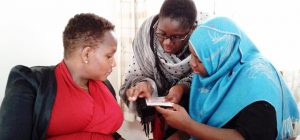 The teams, with representatives from Tandahimba, Newala, Masasi District Council and Masasi Town Council, reviewed indicators for measuring the quality of maternal and newborn health service delivery in the southern region.
This is a follow up meeting after the first one in March, 2018. IHI senior research scientist in the Health Systems research group at IHI, Dr. Fatuma Manzi, led the QUADS project team. She was accompanied by five other project members: Gumi Abdallah, Elibariki Mkumbo, Caroline Shayo, Mwanaidi Mlaguzi, Aziz Ahmad, Asha Salum and Mustapha Kabaka.
About QUADS
In response to poor maternal and newborn outcomes in Tanzania linked to poor quality of care, Ifakara Health Institute (IHI) is implementing a research project known as Quality Improvement for Maternal and Newborn Health at District-level Scale (QUADS).
Part one of the project (QUADS1) aims to provide a substantive evidence base of how systems-wide Quality Improvement at the district, health facility, and community levels can be led by regional managers and integrated into pre-existing government structures, enabling scale-up across Mtwara region, to improve maternal and newborn health outcomes.
QUADS2 is intending to improve the measurement of the quality of maternal and newborn care, and to increase decision-makers' understanding and engagement in routine use of data to improve maternal and newborn quality of care.
Specifically, the objectives are: (1) Develop and validate a user-friendly electronic and paper-based quality of maternal and newborn care assessment tool. (2) Document the experiences of decision-makers and health facility staff in integrating a gender and equity perspective in the assessment and routine use of maternal and newborn quality of care data. (3) Generate evidence on the barriers and facilitators to the scale-up of the electronic tool, and its integration into routine use.
Both projects QUADS1 and QUADS2 are carried out in Tandahimba, Newala TC, Masasi TC & DC in Mtwara Region until 2020 under the Innovating for Maternal and Child Health in Africa program. #