Ifakara Health Institute (IHI) scientists shared five scientific works at the 16th European AIDS Conference which took place from October 25-27, 2017 in the Italian capital, Milan. The conference discussed prevention of new HIV infections and comorbidities in people living with HIV (PLHIV).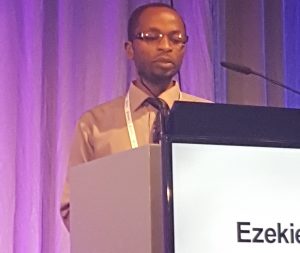 Scientists from IHI's Chronic Diseases Clinic of Ifakara (CDCI) contributed five abstracts: an oral presentation on mother to child transmission during breastfeeding made by Ezekiel Luoga, three posters on comorbidities: prevalence and incidences of different comorbidities by F. Franzeck; renal impairment in HIV-infected patients by Herry Mapesi and improvement in diagnosis of tuberculosis by Robert Ndege.
"We are just back from the European AIDS conference 2017 in Milan, where Dr. Ezekiel Luoga had an oral presentation on our breastfeeding transmission data from Ifakara; Herry had a poster on kidney failure in HIV positive patients and Robert on Sonography in TB," reads in part an email sent by CDCI head, Dr. Maja Weisser, to IHI Science Director, Dr. Fredros Okumu.
Two posters were on late presentation on HIV by L. Essen and on mortality estimation by F. Vanobberghen.
A snapshot on Dr. Luoga's presentation
The presentation focused on mother-to-child transmission during breastfeeding. Long breastfeeding period in many African countries poses a risk of HIV transmission to the child, which – without antiretroviral treatment – is about 10-15%.
In a study of 229 infants born from 215 HIV-infected mothers enrolled in the Kilombero and Ulanga Antiretroviral Cohort (KIULARCO), Dr. Luoga and colleagues found no transmission in 200 virally suppressed mothers (viral load <1000c/ml). Two transmissions were observed in mothers, who stopped treatment and had a high plasma viral load.
A major challenge was high rate of loss to follow-up (10%) and of infant deaths (8%). In conclusion, breastfeeding is safe in virally suppressed mothers under antiretroviral treatment. Joint efforts are needed to keep pregnant and breastfeeding women in care.
Comorbidities in HIV
With the successful rollout of antiretroviral drugs, life expectancy has increased and comorbidities have become more important. In 1648 PLHIV patients included in KIULARCO, the most prevalent comorbidities during a median follow-up of 19.4 months (IQR 9.9-31)) were anaemia (68.4%), arterial hypertension (26.0%), malnutrition (25.7%), mucocutaneous mycosis (24.2%), pulmonary tuberculosis (22%), and thrombocytopenia (19.1%).
Factors associated with a combined endpoint of death/loss to follow-up were tuberculosis, anaemia, malnutrition and opportunistic infection, especially in patients aged 50 years or above.
Renal impairment in HIV-infected patients
Chronic renal impairment – HIV-associated, treatment-related or due to other comorbidities – is difficult to handle in a rural African setting. In KIULARCO, scientists assessed prevalence, incidence and predictors of renal impairment PLHIV in rural Tanzania.
Among 1,093 patients,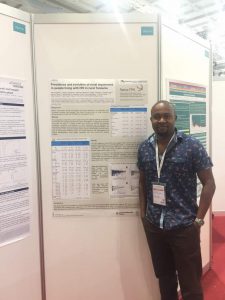 172 (15.7%) had renal impairment at enrolment. Of 921 patients with normal renal function at baseline, 117 (12.7%) developed renal impairment during a median follow-up of 6.2 months (IQR 0.4 – 14.7). At enrolment, scientists found strong association between renal impairment and arterial hypertension and WHO stage III/IV.
Furthermore, at enrolment and during follow-up, older age and those with less than 200 CD4 counts (<200 cells/mm3) were associated with renal impairment. These are reassuring findings, as the prevalence of renal impairment was low despite high usage of tenofovir disoproxil fumarate, a major risk factor for kidney failure and confirmation of known risk factors in our setting.
The data stress the significance of non-communicable disease surveillance in an ageing HIV-population in sub-Saharan Africa.
TB diagnosis
Tuberculosis – a disease of public health significance – is difficult to diagnose, especially if extrapulmonary sites are involved (EPTB) and even more in resource-limited settings. Focused Assessment with Sonography for HIV associated Tuberculosis (FASH) has been developed to improve diagnosis of EPTB.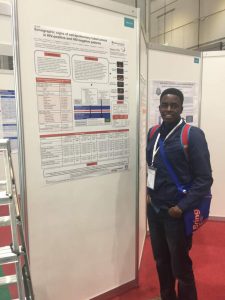 IHI scientists aimed to validate FASH to add on the pretest probably of the already available tests – thus reducing the number of patients, that are incorrectly empirically treated for suspected EPTB. In 175 prospectively enrolled patients (60% male, 58% HIV-positive, median age 40 (IQR 33-49), FASH detected pleural effusion in 47 (27%) patients, pericardial effusion in 26 (15%), ascites in 52 (30%), abdominal lymphadenopathy in 32 (18%), tuberculoma of liver/spleen in 12 (7%) and abnormalities of the terminal ileum wall in 19 (10%).
In the preliminary analysis, abdominal lymphadenopathy and liver/spleen tuberculoma were associated with microbiological proof of TB. An interventional study is needed, to analyze the impact of FASH on correct treatment and clinical outcome. #