The IHI Clinical Trials Facility (IHI-CTF) is located at the Kingani site in Bagamoyo branch. The facility has a track record of designing and conducting Phase I to Phase II GCP compliant studies as well as analysis and reporting for regulatory review and licensure.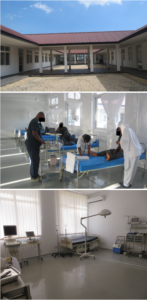 We conduct high quality clinical trials in close collaborations with national and international institutions/ organizations including; Muhimbili National Hospital, NIMR, Swiss Tropical and Public Health Institute (Basel, Switzerland), University of Lausanne, Medicines for Malaria Venture, Malaria Vaccine Initiative, European Vaccine Initiative, Novartis, GSK, Sanaria Inc (USA).
Our work is focused on the diseases of public health importance, mainly focusing on malaria. Several types of studies have been conducted including;
===Bioequivalence of generic versus trademarked antimalarial Coartem.
===Assessment of safety and efficacy of novel antimalarials and transmission blocking potential as well as models for prevention
===Assessment of safety and efficacy for novel malaria vaccines for malaria control and elimination.
===Assessment of safety and efficacy new interventions for prevention of anemia in pregnancy
===Mechanism for efficient  translation of research results into policy and improvement and community well-being
While the CTF at Kingani is the main IHI clinical trials facility, we also conduct other clinical trials in various sites other sites including the Mwananyamala Hospital in Dar es Salaam, and the St. Francis Referral Hospital in Ifaara.
Key Contacts: