Prof. Marcel Tanner has stepped down as Ifakara Health Institute (IHI) member of the Board of Trustees (BOT) an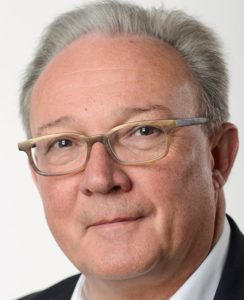 d Board of Governors (BOG) effective Wednesday January 10, 2018. The Former Director of the Swiss Tropical and Public Health Institute (Swiss TPH) in Switzerland and Professor of Epidemiology and Medical Parasitology at the University of Basel, left the two roles during the the BOT meeting held in Dar es Salaam on Wednesday last week.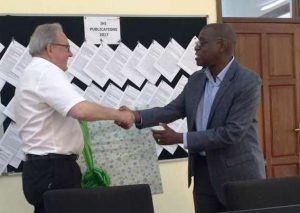 "Marcel stepped down officially from these two roles from 10.1.2018. The Geigy Foundation he represented in the two governing bodies will now be represented by Christian Lengeler (in the BOT) and Juerg Utzinger (BOG)," informs IHI Chief Executive Director Dr. Honorati Masanja in an email to the Institute's Communications office.
Dr. Masanja presented Marcel, widely known at IHI by his first name, with a Tingatinga painting "as an appreciation for his time serving as a member of the BOT." IHI BOT member, Ambassador Florence Tinguely Mattli also presented Marcel with a watch.
More: About Prof. Marcel Tanner
Professor Marcel Tanner has devoted his life to develop new drugs and vaccines to eradicate malaria and other poverty-related diseases and finding new solutions to strengthen health systems in Africa and the Pacific region.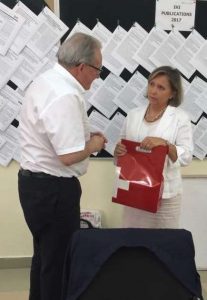 He chairs the Strategic Advisory Group (SAG), INCLEN Trust, the INDEPTH network and the Drugs for Neglected Diseases initiative (DNDi).
The immediate IHI board member also chairs the Scientific Advisory Board of FIND and is a member of the Malaria Policy Advisory Committee (MPAC) of WHO as well as the Scientific Advisory Board of the Novartis Institute for Tropical Diseases in Singapore.
Prof Marcel was key in building up research and implementation institutions in Africa, namely IHI in Tanzania and the Centre Suisse de Recherche Scientifiques (CSRS) in Côte d'Ivoire. He is also the current President of the Swiss National Academy of Sciences.
More: About Prof. Marcel's successors
New BOG member Prof. Utzinger
Prof. Jürg Utzinger is trained in environmental sciences (MSc, ETH Zurich), epidemiology (PhD, University of Basel) and demography (visiting research fellow, Princeton University). Since mid-2015, he is the Director of the Swiss TPH, an associate institute of the University of Basel.
Utzinger is also a professor of epidemiology at the University of Basel. His research, teaching and training interests pertain to the epidemiology and control of neglected tropical diseases and health impact assessment of large infrastructure projects.
The new BOG member is also engaged in transnational global health research consortia with ongoing collaborative projects in Côte d'Ivoire, China and elsewhere in the continents of Africa and Asia.
New BOT member Prof. Lengeler
Prof. Christian Lengeler is the Unit Head at the Swiss TPH and professor of Epidemiology at the University of Basel, Switzerland. He has been working for the past 30 years in the epidemiology and control of tropical diseases, with a strong focus on malaria. His main research interest is operational research and the process of generating, packaging and disseminating evidence on health interventions for communicable diseases.
Prof. Lengeler (pictured) was involved in developing insecticide treated nets (ITNs) as a malaria control tool in the 1990s and has pioneered many developments in large‐scale vector control in sub‐Saharan Africa. Since 1999, he has been involved in the establishment and running of the national ITN programme in Tanzania.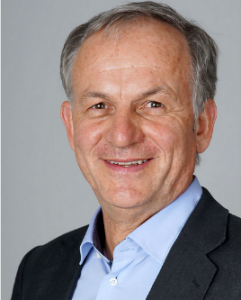 Currently, his group is working on understanding and improving access to malaria treatment in malaria‐endemic countries, improving the quality of health care, the introduction of improved diagnostic strategies and the basic science of non-malarial illnesses.
The new BOT member is also working on understanding and improving access to malaria treatment in malaria‐endemic countries, improving the quality of health care, the introduction of improved diagnostic strategies and the basic science of non-malarial illnesses. He is also the chair of two product development scientific committees at Medicines for Malaria Venture and Innovative Vector Control Consortium and a member of numerous scientific committees. #