(Sitges, Spain) Ifakara Health Institute (IHI) on March 6, 2019 joined four other institutions in launching yet another global effort to fight malaria under a consortium dubbed, "Broad One Health Endectocide-based Malaria Intervention in Africa (Bohemia)".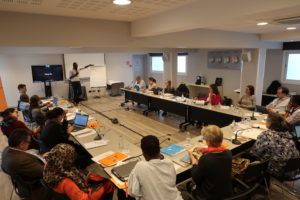 The project kick event was held in Sitges – a coastal town in Spain's Catalonia region, southwest of Barcelona. IHI Director of Science, Dr. Fredros Okumu, who is co-investigator of the BOHEMIA project, attended the meeting.
"We are extremely excited to begin this new partnership with Unitaid, and to work with ISGlobal and other institutions across the globe. In line with our Institute's mission to improve people's health and wellbeing, this funding commitment will allow us to evaluate on a large scale that MDA with a wonder drug, ivermectin, when layered over ongoing initiatives such as insecticide treated nets, could tilt the scales towards eventual malaria elimination even in some of the most challenging conditions," said Dr. Okumu.
Bohemia is a four-year project that will conduct two clinical trials in different eco-epidemiological settings in east and southern Africa, specifically Tanzania and Mozambique. Ivermectin will be distributed in mass drug administration campaigns to humans and livestock, for two consecutive years.
The Barcelona Institute for Global Health, ISGlobal, which leads the consortium has been awarded a US$ 25.3 million grant from Unitaid to evaluate mass drug administration (MDA) of ivermectin.
Other partners forming the Bohemia consortium are: Centro de Investigação em Saúde de Manhiça (CISM), the Ifakara Health Institute, the University Hospital Bern, the University of Oxford, and Virginia Tech.
Learn more about the project in a joint press release on the project kick off here: Press_Release_BOHEMIA project takes off. #