Advanced postgraduate training in health research for IHI staff and guest students

Researchers working with IHI do receive professional training inside and outside the country. Several PhDs level professionals and a number of MSc students also use IHI as their training platform.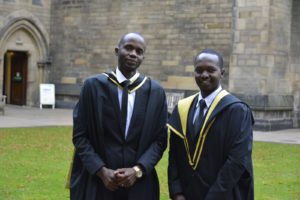 Through leveraging of its rich and diverse research platforms IHI is a preferred training ground for post doctoral research fellows from all over the world.In recent years, IHI has greatly enhanced its efforts in advanced research and training. This process has allowed us to significantly improve our research outputs and expand career development opportunities for young researchers in Tanzania and beyond.
The current demographics of our research staff, with a median age of <40, and their scientific productivity are a testament to this potential.
We currently generate over 150 peer-reviewed scientific publications per year, and a growing number of patent submissions. IHI also has a strong training program, with our students registered in partner universities in Africa, Europe and the Americas.
We graduate more than 10 Masters and 5-8 PhDs annually. IHI post graduate researchers regularly present their work in international conferences, and engage widely with various stake holders and funding partners
Key Contacts:
Partners
Liverpool School of Tropical Medicine
University of California-Berkeley
London School of Hygiene and Tropical Medicine
University of Glasgow
Swiss Tropical and Public Health Institute
Netherlands Initiative for Capacity Development in Higher Education NICHE project of NUFFIC