Assessing malaria infections among migratory rice farmers in a residual transmission setting in rural south eastern Tanzania

Malaria is declining across Africa, due to improved vector control, case management, urbanization, improved health care and better living standards.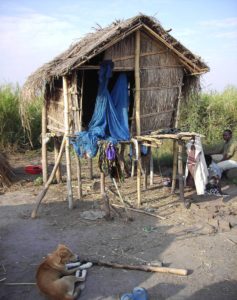 Its epidemiology on the other hand, is increasingly stratified, with geographically distinct high transmission areas and/or demographically high-risk sub-populations. Occupation-related exposures to pathogens, including Plasmodium are well known.
In Ulanga district, south-eastern Tanzania, malaria has declined by >60% since 2001 but low-level transmission persists despite >80% bed net coverage. Many families practice migratory rice farming, spending weeks or months in their farms, 5-35km away.
The aim of the study is to compare numbers of malaria cases among these migratory rice-farmers and other people who are not migratory.
The project will also regularly collect mosquitoes indoors and outdoors in the farms and main villages to evaluate where the farmers are bitten/exposed to by most malaria-carrying mosquitoes.
This project is also part of part of Kyeba Swai's Wellcome Trust Masters Fellowship.
Lead Scientist:
Partners
Swiss Tropical and Public Health Institute
The London School of Hygiene and Tropical Medicine, UK