(Dar es Salaam) The Deputy Minister for Health, Community Development, Gender, Elderly and Children, Dr. Faustine Ndugulile, has urged scientists to consider taking their study results documented in journals a step further by creating policy briefs that can be digested easily.
Dr. Ndugulile sounded the call when giving remarks to officially open in Dar es Salaam on Tuesday an evening event to release a documentary film depicting around half a century legacy of the founding father of Ifakara Health Institute (IHI) Prof. Rudolf Geigy. The film was premiered before government officials, scientists and the media on October 2, 2018.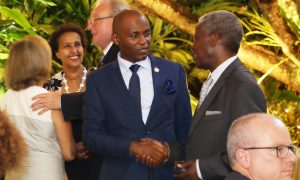 "The government is aware of many successes that Ifakara Health Institute had in the area of research. The ministry has vested over a long history of good working relationships with many successes, ranging from basic biomedical sciences to health systems research and policy delivery. That's why we're absolutely sure that innovations from the Institute can add value to the improvement of our health systems. What you need to do now is changing your study results into policy briefs," he remarked.
The premiered film, 'The Legacy of a Driven Man: Why Rudolf Geigy Set Out for Africa' was released and screened for the first time at the Swiss Ambassador's Residence on 17 Kenyatta Drive in Dar es Salaam. It tells an interesting story of Prof. Geigy's research and conservation activities in Africa.
The event started with a panel discussion during which panelists – IHI Chief Executive Director Dr. Honorati Masanja, former IHI board member and director Prof Marcel Tanner and Innovation champion Mariam Mgonja – shared experiences and exchanged ideas focusing around the topic, 'Health Research and Innovation: The Role of the Ifakara Health Institute in Tanzania and Beyond'. #
To view more photos from this event hit here.