(Bagamoyo) Swiss Ambassador to Tanzania Florence Tinguely Mattli and Head of Sub-Saharan Africa and Francophone Division in the Swiss Department of Foreign Affairs Ambassador Anne Lugon-Moulin visited Ifakara Health Institute's offices in Bagamoyo on November 29 2018 to see work and strengthen ties with the IHI.
"It's such so meaningful to work from Tanzania, for the region and for the world," said the Swiss Ambassador in her remarks before IHI scientists, most of whom with long research and training collaborations with Swiss organizations, including the Swiss TPH. "Your institute is able to shine very far away," she said.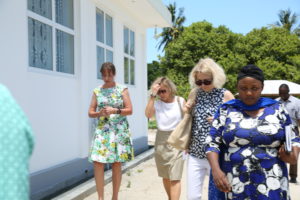 For her part, Anne Lugon-Moulin was impressed with the scope of international relations between IHI and foreign organizations apart from the Swiss TPH.
The Head of Training and Capacity Building at IHI, who also doubles as Manager for the IHI Branch in Bagamoyo Dr. Kafuriki Shubis said IHI engaged with various partners in Africa, Europe, Asia and America. #