Update: Two projects investigating diseases transmitted from animals to people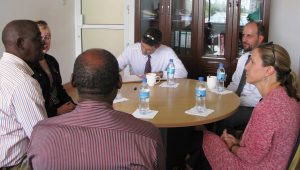 (Bagamoyo, October 9-10, 2017) Ifakara Health Institute (IHI) and its collaborating institutions, the University of California Davis and Sokoine University of Agriculture (Sua), held a meeting with their funding partner, Defense Threat Reduction Agency (DTRA), at the IHI Bagamoyo Branch from October 9-10, 2017 to discuss progress in the implementation of two DTRA-funded projects: the Zoonotic Viral Sharing (VISHA) and Rift Valley Fever and Brucellosis Surveillance (RB).
The meeting was officially opened by IHI Chief Executive Director Dr. Honorati Masanja, who welcomed the DTRA team (Mary Lancaster, Will Sander, James Wilson) and the CDC Tanzania Country Director Rachel Eidex.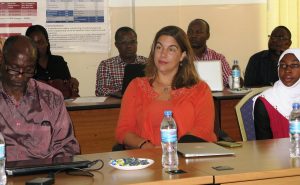 In his opening remarks, Dr. Masanja emphasized cross institutional collaborations within the country in addition to international collaborations as doing so "will encourage policy makers to be involved in research."
The two DTRA-funded projects are investigating diseases transmitted from animals (livestock and wildlife) to people in the Ruaha Ecosystem in Iringa Region and the Kilombero Valley in Morogoro Region.
IHI leads the human and vector components of the projects while SUA leads the livestock and wildlife components. #