Ifakara Health Institute (IHI)'s QUADS project conducted a zonal meeting with health stakeholders to discuss issues on deaths happening before birth, and during or relating to pregnancy in the southern regions of Lindi and Mtwara. The meeting also discussed immunization services.
Communications focal point for the QUADS project, Gumi Abdallah, informed Sayansi na Ubuntu blog that the three-day meeting was held in Kilwa from November 1-3, 2017. Participants included health management team members from the central and local governments.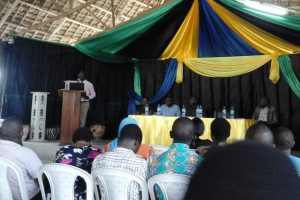 Other participants were drawn from NGOs namely, GiZ, USAID Boresha Afya, Ndanda, Nyangao and Ligula Mission hospitals, VSO, Clinton Foundation, PSI, and Marie Stopes.
This meeting aimed at coming up with strategies for reducing the deaths and improve quality of care generally.
IHI was represented by QUADS project team members namely: Elibariki Mkumbo, Dr Mwanaidi Mlaguzi and Gumi Abdallah.
Background
Tanzania has made a considerable progress in addressing maternal and newborn health challenges, but as we all know, there has been slight progress in Mtwara and Lindi regions in the last decade. Poor health care seeking behaviour and health system challenges are among the reasons for maternal and neonatal deaths.
IHI undertakes a study known as: 'Quality improvement in maternal and newborn health at district-level' which uses collaborative quality improvement (QI) approach – a bottom-up problem solving method that can be used to strengthen health systems.
When applied to maternal and newborn health, the approach can be used to improve both the quality and the demand for maternal and newborn health services. To achieve measurable improvements, scientists working in the project are integrating the quality improvement strategy at the district and regional level. #