The IHI Vector Control Product Testing Unit is an internationally renowned site for high quality evaluations of new vector control products for the private industry, product development partnerships, and regulatory bodies including WHO prequalification. The Unit is located in our Bagamoyo and Ifakara branches within the IHI Environmental Health and Ecological Sciences (EHES) department.
Hut testing and Village Scale Trials possible all year round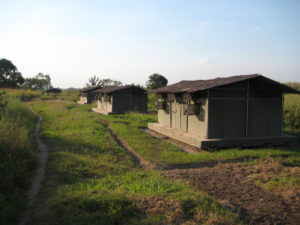 We test insecticides for indoor residual spraying (IRS), new types of long lasting insecticidal nets (LLINs), skin repellents, spatial (area) repellents, treated clothing in addition to mosquito lures.
We develop new means of testing products and develop guidelines for international use.
We measure key parameters in the mosquito that translate to efficacy in reducing vector borne disease in human population when applied at scale.
Our documentation and reporting is rigorous for ease of use by our partners.
IHI recently contributed to the registration of SumiShield through PQ http://www.who.int/pq-vector-control/prequalified-lists/sumishield50wg/en/ and are currently on-going with other PQ studies.
We partner with sites in West Africa and India for three site evaluation using a single protocol and reporting format.
Facilities are undergoing Good Laboratory Practice Accreditation through SANAS http://home.sanas .co.za supported by |2| http://innovationtoimpact.org/category/glp/
Capacity and Features
We have 12 Ifakara experimental huts, Phase 1 LLIN washing facilities, Semi Field Systems for repellent and odour lure evaluations, 10 Ambient Chambers for LLIN and treated clothing evaluations.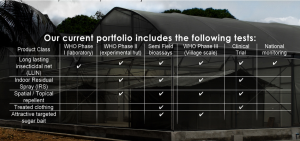 ________________________________________________________________________________________________________________
Key Contacts: