Our Vector Control Product Testing unit is internationally renowned site for high quality evaluations of new vector control products for the private industry, product development partnerships, and regulatory bodies. We develop and evaluate tools for vector control at a consistently high standard from the laboratory to the field.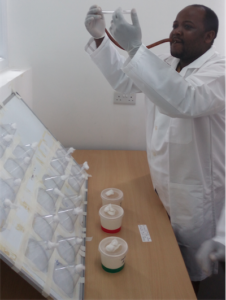 We test insecticides for indoor spraying, new types of bed nets, skin repellents, spatial (area) repellents, treated clothing, mosquito lures. We carry out evaluations for World Health Organisation, United States Army and private companies. We develop new means of testing products and develop guidelines for international use. We measure key parameters in the mosquito that translate to efficacy in reducing vector borne disease in the human population when applied at scale.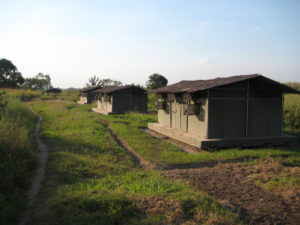 We use semi-field tests in large screened chambers as well as conducting research in experimental huts and communities with wild populations of mosquitoes.
The semi-field tests in the Ifakara Tunnel with 10 chambers 3 x 5 x 2metres as well as the semi-field system with 2 chambers 10 x 23 metres containing experimental huts are unique infrastructure allowing a variety of experiments.
Data is generated that is high throughput, high quality and most importantly ethical – only laboratory reared, disease free mosquitoes are used so people are not put at risk when carrying out evaluations. The IHI Vector Control Product Testing facility is expected to be among the first African GLP- accredited sites for vector control product testing in 2017
Key Contacts: