(Bagamoyo) Ifakara Health Institute joined hands with the Bagamoyo District Council at the launch of a 12-month campaign aimed to guard children aged 5-14 years in Bagamoyo against schistosomiasis and worms.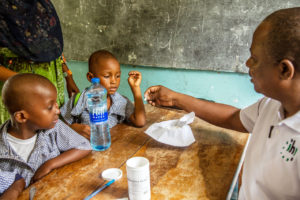 Check out photos captured during the event on our online gallery here.
Preventive drugs (praziquantel and albendazole) for schistosomiasis and worms (intestinal helminths) will be administered to all Bagamoyo children at nursery and primary schools.
Dr. Michael Mihayo from IHI joined counterparts from Bagamoyo District Council, who were led by Dr. Salvio Wikesi, for the event held at Kizuiani Primary School in Kisutu Ward during the first week of May. Dr. Wikesi officially launched the campaign on behalf of Bagamoyo District Commissioner Zainab Kawawa.
He assured parents and guardians of the safety of the administered drug doses of praziquantel and albendazole, brushing off rumors that they would cause impotence or infertility to their children.
Bagamoyo District Coordinator for Neglected Tropical Diseases (NTDs), Mr. Mohamed Farah, said the campaign aims to end schistosomiasis and intestinal helminths in children in Bagamoyo. According to him, last year a similar campaign covered 90.2% of the children.
Participation of IHI in the campaign is in line with its commitment to strengthen engagement with key stakeholders in the public health sector, particularly the government at levels in an effort to fight against diseases.
In the current IHI strategic plan 2018-2023 has underlined NTDs and several researches in schistosomiasis and intestinal helminths are in pipeline. IHI's Dr. Mihayo has keen interest in studies of interactions between schistosomiasis, malaria and intestinal helminthiasis. #