CHALLENGE: Study finds high support, but low knowledge of new malaria control tool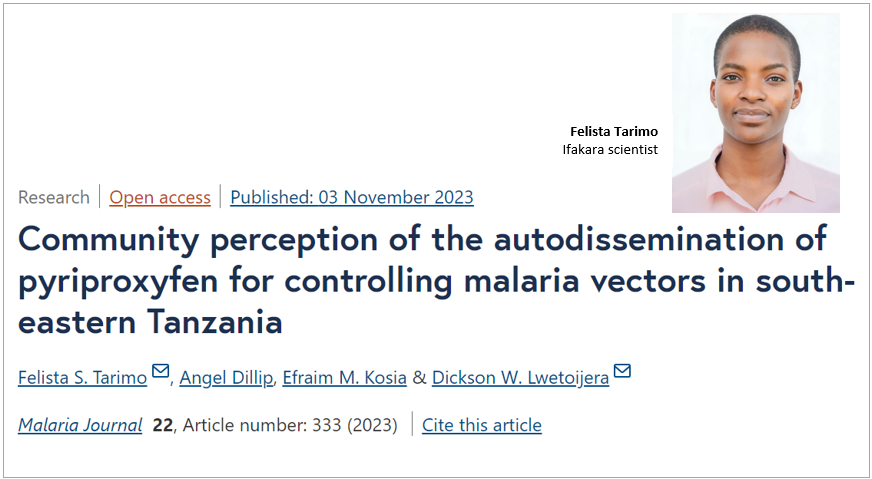 Autodissemination of "pyriproxyfen" – a proven complementary tool for malaria control in rural Tanzania – has earned high community support, but most people lack knowledge about it. Now scientists at Ifakara Health Institute scratch their heads to look for best ways to raise awareness about the tool in the community.
The scientists, led by the lead author Felista Tarimo, report in their latest publication on the Malaria Journal: "The efficacy of the autodissemination of pyriproxyfen [simply PPF] to control malaria vectors has been demonstrated under semi field environment in Tanzania. However, the information on how best communities should be engaged for its routine and large-scale adoption are lacking."
The scientists say in their paper, published on November 3, 2023, their study indicates "a low knowledge but high support" for scaling up of the complementary tool for malaria control, that's why they recommend community sensitization activities to make the community accept and trust it.
"Community sensitization activities are required to improve the community's acceptability and trust of the approach before respective field trials.
What Ifakara scientists explored
The potential of autodissemination of PPF for malaria control in south-eastern Tanzania has been investigated for nearly a decade, and promising findings have been demonstrated. However, innovative ways of engaging the communities for successfully scaling-up of the approach is yet to be explored.
Their study investigated and documented knowledge, awareness and perceptions of community members on the use of autodissemination technique with tool for malaria control.
400 people surveyed
This study used both numbers and people's opinions to learn more about a topic. They talked to 400 people from different households and had group discussions with eight groups of people. The study took place in two villages, Nanwawala and Idete in Mlimba district, in southeastern Tanzania, from June to August 2022.
Community perceptions
The study found that many people are worried about the tool and compared it to other methods they've used before. One person from the community said, "Our worries started when bed nets were given out. We've heard that nets can reduce a man's energy! Let's not introduce things that could harm us in the long run. So, we're asking you to be careful about that."
With that not only being the case, they also had worries and asked questions about what might happen to children in households where pots containing pyriproxyfen (PPF) would be placed. They were concerned that children might accidentally come into contact with pyriproxyfen, which could harm their health.
Some people were also worried about the potential harm if pyriproxyfen came into contact with human skin through activities like bathing in treated ponds. Additionally, they raised concerns about how livestock might be affected when they come into contact with these treated ponds.
Contributors to the study
In this study and publication, Tarimo worked along with Ifakara colleagues namely: Angel Dillip, Efraim Kosia, and Dickson Lwetoijera.
>> Read full publication here
About "pyriproxyfen"
Pyriproxyfen mimics a natural hormone in insects and disrupts their growth. It is a type of insect growth regulator that affects mostly young insects and eggs. Pyriproxyfen affects many types of insects, including fleas, cockroaches, ticks, ants, carpet beetles, and mosquitoes – which are the target in this study and publication.