DISCOVERY: Notorious malaria species live relatively longer than other mosquitos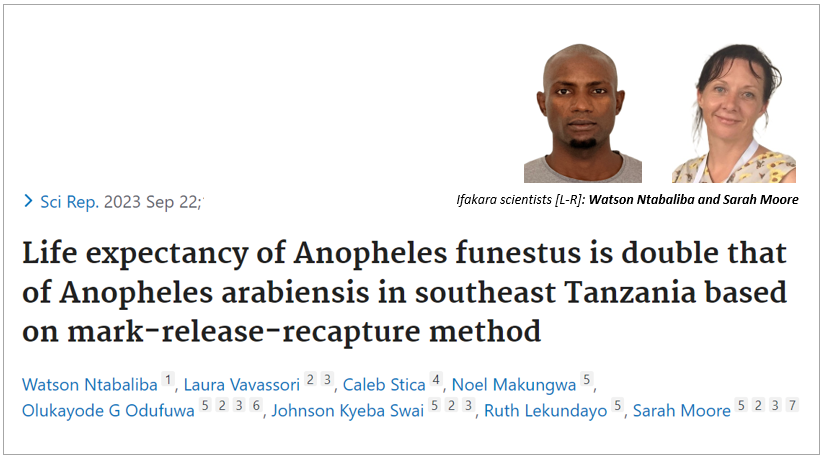 After examining the lifespans of malaria-carrying mosquitoes, scientists at Ifakara Health Institute - Tanzania, the Swiss TPH - Switzerland and the Queensland University - Australia are now certain that at least one notorious species live twice as much longer than other mosquito species.
"Funestus" – the notorious malaria-carrying mosquito species of the "anopheles" group widely known to own a lion share in malaria infections so far – has a life expectancy that is twice as much longer than that of the "arabiensis" species of the same group.
Why focused control measures?
Findings of their study, conducted in 2020 in the southeastern part of Tanzania, have been published in the Scientific Reports journal on September 22, 2023 – underlining the importance of developing and implementing "focused malaria control measures."
"Mosquito longevity is a critical aspect in the transmission… which requires more than 12 days to be infective. The longer lifespan… may have therefore contributed to its relative efficiency as a vector… More focused attention is needed… due to its efficiency in transmitting malaria."
Implication to control strategies
While the primary focus of the study was to investigate the survival and dispersal capabilities of the two species, the scientists also stressed on the importance of understanding the mobility and longevity patterns of the two malaria-transmitting mosquitoes. They emphasized that having such understanding is essential for developing effective malaria control tools.
"This data is needed to inform mathematical models used to optimize the selection of malaria control tools. Furthermore, knowledge of the survival and dispersal of malaria vectors is critical for planning, evaluating, and implementing new tools which are intended to interrupt the pathogen's transmission."
Contributors
The research team from Ifakara included Watson Ntabaliba and Sarah Moore, who served as the primary authors, who collaboratively worked with Noel Makungwa, Olukayode Odufuwa, Johnson Swai, and Ruth Lekundayo.
Additional contributions came from Laura Vavassori of the Swiss TPH, Switzerland and Caleb Stica of the Queensland University of Technology, Australia.
>> Read the full publication here.
About malaria-carrying mosquitos
Anopheles or Marsh Mosquitoes is a genus of mosquito first described and named by J. W. Meigen in 1818. About 460 species are recognized; while over 100 can transmit human malaria, only 30–40 commonly transmit parasites of the genus Plasmodium, which cause malaria in humans in endemic areas.
>> Learn more about malaria mosquito's lifecycle here.
About malaria
The WHO reports that in 2021, nearly half of the world's population was at risk of malaria. That year, there were an estimated 247 million cases of malaria worldwide and the estimated number of malaria deaths stood at 619, 000. The WHO African Region carries a disproportionately high share of the global malaria burden. In 2021, the Region was home to 95% of malaria cases and 96% of malaria deaths. Children under 5 accounted for about 80% of all malaria deaths in the Region.
Malaria is a life-threatening disease spread to humans by some types of mosquitoes. It is mostly found in tropical countries. It is preventable and curable. The infection is caused by a parasite and does not spread from person to person. Symptoms can be mild or life-threatening. Mild symptoms are fever, chills and headache. Severe symptoms include fatigue, confusion, seizures, and difficulty breathing. Infants, children under 5 years, pregnant women, travellers and people with HIV or AIDS are at higher risk of severe infection.
Malaria can be prevented by avoiding mosquito bites and with medicines. Treatments can stop mild cases from getting worse. Malaria mostly spreads to people through the bites of some infected female Anopheles mosquitoes. Blood transfusion and contaminated needles may also transmit malaria.
>> Learn more about malaria here.