ENTOMOLOGICAL TRENDS: This mosquito species is now a dominant malaria vector in Africa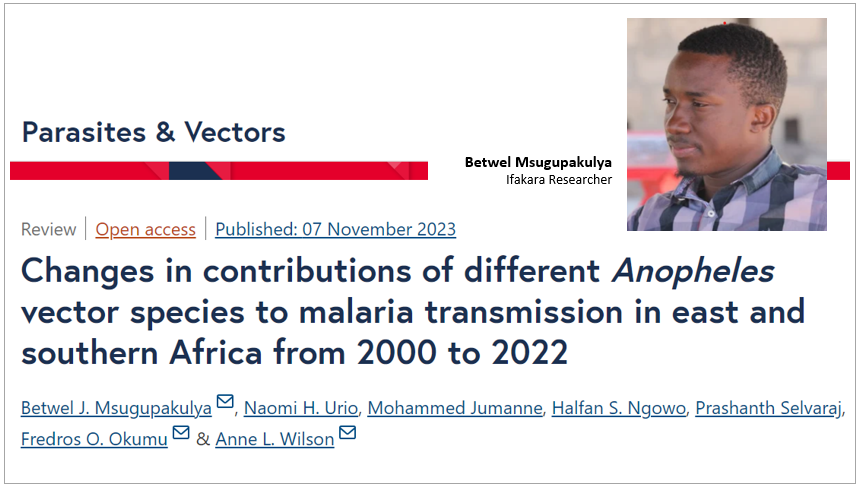 After assessing changes in the contribution of different vector species to malaria transmission in east and southern Africa over 20 years, entomologists at Ifakara Health Institute are now certain that a mosquito species that previously was on the back seats, has now become a dominant vector in spreading the disease in eastern and southern Africa settings.
Malaria transmission in Africa is facilitated by different species of anopheles mosquitoes, which include "gambiae" and "funestus." In their review, the scientists, led by Betwel Msugupakulya, found that, while the "gambiae" species accounted for more transmissions between 2000 and 2010, "funestus" was found to be a dominant vector from 2011 – 2021.
"The contribution of different vector species in malaria transmission has changed over the past 20 years. As the role of anopheles gambiae has declined, anopheles funestus now appears to be dominant in most settings in east and southern Africa," the scientists say in their new article published on the Parasites & Vectors journal on November 7, 2023.
However, they remind: "Other secondary vector species may play minor roles in the region, vector control should be optimized to match these entomological trends, considering the different ecologies and behaviors of the dominant vector species."
How this review was done
Betwel and team searched online databases for articles published between January 2000 and this year – which is just a couple of months back – that provided species-specific sporozoite rates for different malaria vectors in east and southern Africa.
"We extracted data on study characteristics, biting rates, sporozoite infection proportions, and entomological inoculation rates (EIR). Using EIR data, the proportional contribution of each species to malaria transmission was estimated," they explain.
Now, what next from here?
Now that it's already know the contribution of different vector species in malaria transmission change over time, the scientists emphasize the importance of optimizing vector control strategies to align with these entomological trends.
"While innovative methods are being developed, currently available tools should be enhanced," they recommend.
Scientists behind this study
Contributors to the study and publication, apart from Betwel himself who was the lead author, include: Naomi Urio, Mohammed Jumanne, Halfan Ngowo, and Fredros Okumu, all from Ifakara. Others are: Prashanth Selvaraj from the Institute for Disease Modeling, Bill and Melinda Gates Foundation, Seattle, USA and Anne Wilson from the Department of Vector Biology, Liverpool School of Tropical Medicine, Liverpool, UK.
Read full publication here
About "funestus" – the now dominant vector
Anopheles funestus is a mosquito species in the culicidae family. This species was first described in 1900 by George Michael James Giles (1853 - 1916) – an English surgeon and entomologist who specialized in mosquitoes.
Giles described several new species of mosquitoes. Two of the most important are culex tritaeniorhynchus, described in 1901, and anopheles culicifacies, described in 1901. The female is attracted to houses where it seeks out humans in order to feed on their blood, mostly during the night. This mosquito is a major vector of malaria in sub-Saharan Africa.
Learn more here
Malaria transmission in Africa
Approximately 2 billion malaria cases and 12 million malaria deaths were averted over the past two decades due to the scale-up of malaria interventions such as insecticide-treated nets, indoor residual spraying, and effective case management – estimated to respectively contribute 68%, 13%, and 19% of the decline in malaria cases between 2000 and 2015.
Unfortunately, malaria transmission persists, and in some settings, there has been stagnation or even reversal of gains. The World Health Organization estimates that, globally, we are 48% off the malaria control targets set in the Global Technical Strategy (GTS) (of 31 cases per 1000 population and 7.8 deaths per 1000 population by 2021) and that this situation could worsen.
Learn more here