FAMILY PLANNING: Community involvement can improve service uptake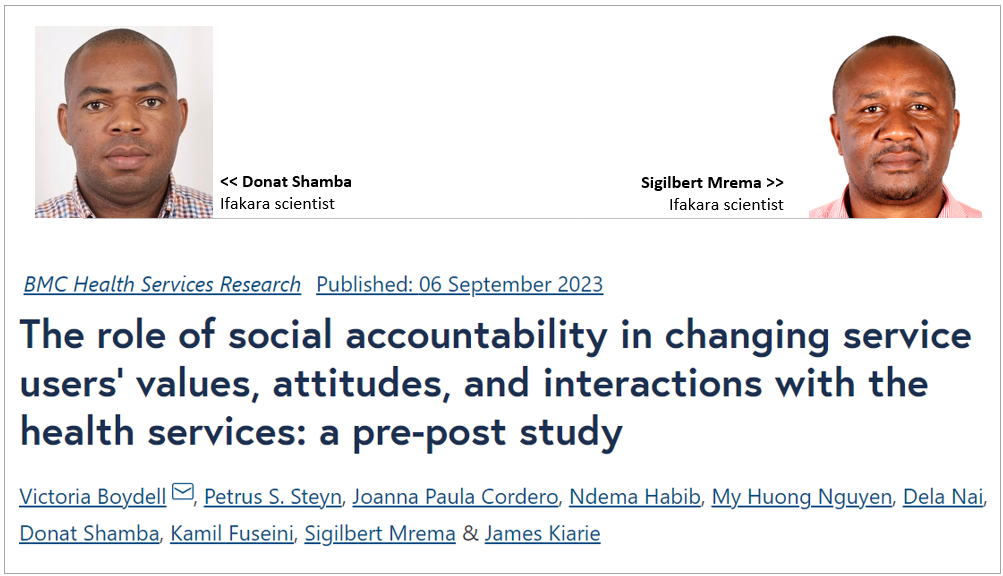 A new study has confirmed that community involvement can greatly improve the use of family planning services, including contraceptives. In particular, scientists believe the approach can help to alter the values, attitudes, and interactions between community members and health workers.
Scientists from the UK, Switzerland, Ghana, and Tanzania confirmed the effectiveness of the approach while working on the Community and Provider-driven Social Accountability Intervention (CaPSAI) project, a two-year study that examined how to implement social accountability practices in the context of family planning and contraceptive (FP/C) services.
"The CaPSAI theory of change suggests that changes in the values, attitudes, and interactions of the community and health providers are a central part of the social accountability process leading to health-related outcomes," the scientists noted in their paper published in the BMC Health Services Research journal on September 6, 2023.
CaPSAI explained
The CaPSAI Project is an initiative aimed at promoting social accountability in healthcare services. It involves both community members and healthcare providers working together to improve the quality and accessibility of healthcare services.
The project typically focuses on areas such as monitoring and improving healthcare delivery, addressing issues like contraceptive discontinuation, and ensuring that healthcare providers are accountable to the communities they serve.
>> Learn more about CaPSAI here
CaPSAI project in Ghana, Tanzania
Between 2018 and 2020, the scientists implemented the CaPSAI project in Ghana and Tanzania conducting a process evaluation to identify key causal pathways and better understand the factors influencing the uptake and use of contraceptives and family planning services.
The study involved 1,500 women aged 15-49 years accessing contraceptive services across 8 health facilities in Ghana and in Tanzania. It sought to track alterations in contraceptive use patterns among these participants.
In both settings, there were significant improvements in women's participation and in household decision-making perceived treatment by health workers. There was also a decline in women's rights knowledge, the perception of service quality, awareness of accountability mechanisms, and collective efficacy in the community in both settings.
Influence on discontinuation
Despite the significant improvement observed, further results did not reveal any significant changes in overall contraceptive method discontinuation or switching in either country following exposure to a social accountability intervention. This implies that the intervention did not result in a substantial alteration in the rate at which women discontinued the use of their selected contraceptive methods.
Furthermore, the results for other constructs were also different between the two countries, namely the ability to attend and participate in community meetings, mutual responsibility for and support of services, and community support in times of crisis.
"When comparing the results within and between countries, there are mixed results. There were only two domains where there were significant positive changes, and in five domains there were significant negative changes in the study period,"
"These findings align with related research in this area, it is well-established that community group engagement can improve women's decision-making power and consequently, women's ability to make and act on decisions is linked to contraceptive use," wrote the scientists.
The Tanzanian context
When investigating the factors contributing to contraceptive discontinuation among Tanzanian women, the control group (those not exposed to the social accountability intervention) predominantly cited concerns related to side effects and challenges in accessing their preferred contraceptive method.
Conversely, the intervention group (those who underwent the intervention) outlined reasons such as the pursuit of a more suitable method, apprehensions about side effects, and general health considerations.
Additionally, the scientists acknowledged that while the CaPSAI intervention aims to change the values, attitudes, and interactions between community members and those providing contraceptive services, changes in different directions observed during the study would require further examination.
"The CaPSAI intervention set out to change the values, attitudes and interactions between the community and those providing contraceptive services. Such outcomes related to knowledge whereas others related to attitudes and others were experiences. There were changes in different directions, and this suggests that we need to further examine how changes take hold and bring about certain outcomes in different timeframes," concluded the scientists.
What next?
The suggestion here is that future research should take a more thorough approach, considering various factors like what happens between the intervention and the outcome, how things are implemented, and the specific local conditions. Understanding the complex aspects of how accountability works in healthcare settings will be essential for making improvements in family planning and reproductive health services in the future.
Scientists who contributed to the study from Ifakara Health Institute include Donat Shamba and Siglbert Mrema. Other contributors are Victoria Boydell from the University College of London; Petrus Steyn, Joanna Paula Cordero, Ndema Habib, My Huong Nguyen, and James Kiarie from UNDP/UNFPA/UNICEF/WHO/World Bank Special Programme of Research; and Dela Nai and Kamil Fuseini from Population Council of Ghana.
About family planning
Family Planning also referred to as contraception, encompasses various methods and strategies that individuals or couples use to control and space pregnancies. These methods are designed to help people make informed choices about when and how many children they want to have, as well as to prevent unintended pregnancies.
>> Learn more about this concept here
>> Full publication here: https://pubmed.ncbi.nlm.nih.gov/37674164/