HEALTHCARE: Scientists call for policy reforms to manage chronic illnesses during pandemics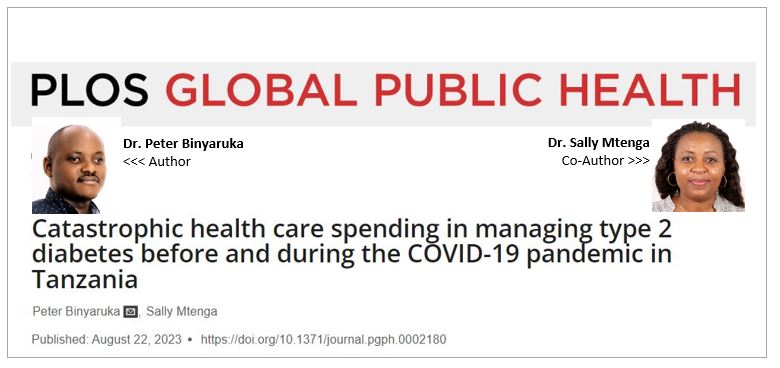 Scientists at Ifakara Health Institute have called for policy reforms to ensure financial protection in managing chronic illnesses such as diabetes, particularly in the context of pandemic and emergency situations.
The scientists shared this recommendation after carrying out a study examining the impact of COVID-19 on individuals with type 2 diabetes. In particular, the study examined the change in household income, healthcare access costs, and incidence of catastrophic health spending among diabetic patients in Tanzania. The study was published in the PLOS Global Public Health journal on August 22, 2023.
Dr. Peter Binyaruka and Dr. Sally Mtenga, scientists at Ifakara who are the study's principal authors, set out to show how COVID-19 affected healthcare access while also reducing household income, reflecting the experiences of households before and during COVID-19.
"We focused on people with type 2 diabetes (T2D), a non-communicable disease, as they are likely to be affected especially severely by the COVID-19 pandemic," wrote the scientists adding, "People with T2D are more vulnerable to infection by COVID-19 due to reduced immunity and become more severely ill. They need regular care to monitor their condition, and some either stopped accessing that care or faced increased costs in doing so."
A total of 500 individuals with type 2 diabetes and other non-communicable diseases who reside in the Dar es Salaam and Morogoro region were surveyed back in February 2022.
Data collected from the survey revealed that the COVID-19 pandemic was associated with reduced household income, increased transport costs, increased financing burden and financial catastrophe among diabetic patients in Tanzania.
"These findings confirmed the hypothesis that both reduced household income and increased cost of accessing health care due to COVID-19 contribute to household welfare loss. It also shows that healthcare expenses incurred by chronically ill patients, among other factors, mediated the harm caused by COVID-19 to household welfare and increased financial hardship."
Within the paper, the scientists also highlighted similar studies elsewhere producing consistent results showing that COVID-19 restrictions disrupted income-generating activities and limited mobility the scientists were keen to emphasize policy reforms.
They suggested strengthening and expanding existing health insurance and/or enforcing user fee exemption, especially for people with chronic illness as important steps towards UHC.
"Our findings show that financial protection from health care costs and transport costs for people with T2D is inadequate in Tanzania. This highlights the need for policymakers to ask how to ensure financial protection in managing chronic illnesses such as T2D, especially in the context of pandemic and emergency situations."
>> Read the full publication here.