INNOVATION: Predicting malaria risk areas using geospatial technique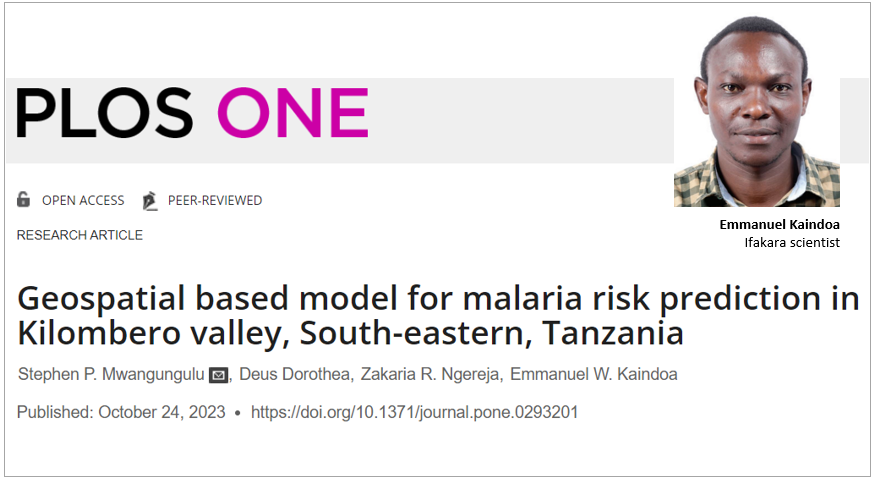 Ifakara Health Scientists recently employed an analytical approach to predict and map regions with high possibility of malaria risk in the Kilombero Valley, Morogoro region in Tanzania, emphasizing the need for taking proactive measures in the ongoing fight against the disease.
In their study, the scientists utilized a "geospatial-based model" to gain an understanding of the geographic distribution and transmission patterns of malaria, which is essential for the effective control and prevention of the disease.
"The geospatial technique has the capability of collecting, integrating and understanding the temporal and spatial variations of the environmental variables and their relationship to disease vectors and position measures that can be taken to reduce their transmission," they explained in their study published in the PLOS One journal.
Ifakara's Stephen Mwangungulu contributed to the study and publication as lead author. Other contributors are: Deus Dorothea and Zakaria Ngereja from Ardhi University and Emmanuel Kaindoa, also from the Ifakara's Environmental Health and Ecological Sciences Department.
Mapping risk areas
The scientists sought to predict areas at high risk of malaria transmission so that intervention measures could be developed to accelerate malaria elimination efforts. To achieve this, Stephen et al utilized a geospatial-based model to predict and map malaria transmission risks in three neighboring districts of Kilombero, Ulanga and Malinyi located in Kilombero Valley.
In a briefing about the study, Emmanuel shared insights on the distribution of malaria risk in Kilombero Valley stating, "Environmental factors influencing malaria transmission were weighted using the Analytic Hierarchy Process (AHP) and mapped in Geographic Information Systems (GIS). The study revealed that the majority of the area falls under a moderate risk level (61%), with low-risk areas covering 31%, while high-risk regions occupy only 8%."
He further added, "The findings of this study are crucial for developing spatially targeted interventions against malaria transmission in residual transmission settings."
Tailored intervention in high-risk regions
Following these findings, the scientists underlined the need for targeted intervention in areas at high risk of transmission. By identifying areas prone to higher malaria risk, policymakers and decision-makers can plan, monitor, and deploy interventions more effectively, therefore accelerating the elimination of malaria in Kilombero Valley and other regions facing similar challenges.
"The study highlights the importance of geospatial techniques…by relying on analyzing various environmental factors using remote sensing (RS) and GIS. These techniques were used to create predicted areas prone to malaria transmission based on the environmental parameters, reclassification, overlay and identification of risk levels (High, moderate or low). Therefore, geospatial techniques could be utilized to facilitate timely and effective vector control and prevention programs."
Why the geospatial, RS, GIS techniques?
More than 70% of malaria transmission risks are associated with environmental variables which include temperature, vegetation cover, slope, altitude, distance to water bodies, humidity, human population, land use, and land cover.
These variables provide favorable conditions for breeding sites for disease vectors as well as the growth of parasites, hence the development of geospatial techniques which have been applied by epidemiologists and scientists to collect, manage, manipulate, visualize, identify, characterize, and monitor environmental variables for understanding the trend of diseases, including malaria.
Remote Sensing (RS) involves the process of acquiring information about an object, area, or phenomenon without being in physical contact with it. RS involves the use of various sensors, such as cameras and satellite systems, to collect data from a distance.
Geographic Information System (GIS), on the other hand, offers capabilities in helping to identify malaria risk areas.
Both RS and GIS have been applied for modeling and understanding the temporal and spatial variations of environmental variables, and their relationship to disease vectors and position measures that can be taken to reduce their transmission.
Read the full publication here