MALARIA CONTROL: Targeting breeding sites to prevent mosquito growth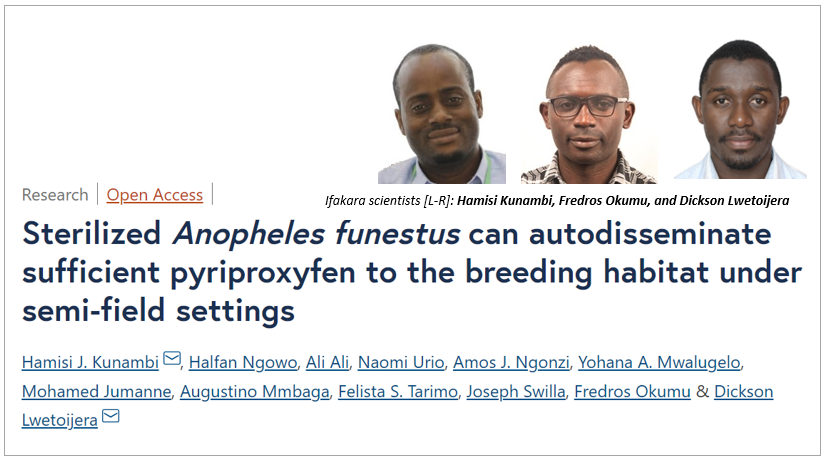 Scientists at Ifakara Health Institute are now targeting breeding sites to prevent malaria mosquitos from growing up and spreading the disease, which claims an estimated 600, 000 lives globally – with Africa carrying a disproportionately high share (over 96%) of the burden.
The scientists – led by Hamis Kunambi, the lead author, under the supervision of Dr. Fredros Okumu and Dr. Dickson Lwetoijera – apply a technique known as "autodissemination" that takes advantage of the female mosquito's habit of laying eggs to transfer pyriproxyfen – which mimics a natural hormone in a mosquito and disrupts growth – to the breeding sites and thereby prevent young mosquitoes from growing up and spreading malaria.
"The autodissemination technique interrupts malaria transmission by preventing the emergence of adult vectors from contaminated breeding habitats resulting in the reduction of malaria vector density," they wrote in their latest paper published recently on the Malaria Journal.
Main malaria vector targeted
Anopheles funestus, the main malaria vector, prefers to lay eggs in breeding habitats located far from human dwellings. Difficulties in identifying and accessing these habitats jeopardize the feasibility of conventional larviciding. In this way, a semi-field study was conducted to assess the potential of using the vector to auto disseminate "pyriproxyfen" which is used to control the vector.
Results have confirmed that sterilized female mosquitoes can transfer "pyriproxyfen" and contaminate other breeding habitats on the semi-field settings and thereafter prevent adult emergence at breeding habitats.
Other scientists who contributed to the study and the publication are: Halfan Ngowo, Ali Ali, Naomi Urio, Amos Ngonzi, Yohana Mwalugelo, Mohamed Jumanne, Augustino Mmbaga, Felista Tarimo, and Joseph Swilla.
>> Read full publication here
About "pyriproxyfen"
Pyriproxyfen mimics a natural hormone in insects and disrupts their growth. It is a type of insect growth regulator that affects mostly young insects and eggs. Pyriproxyfen affects many types of insects, including fleas, cockroaches, ticks, ants, carpet beetles, and mosquitoes – which are the target in this study and publication.
About malaria
The WHO reports that in 2021, nearly half of the world's population was at risk of malaria. That year, there were an estimated 247 million cases of malaria worldwide and the estimated number of malaria deaths stood at 619, 000. The WHO African Region carries a disproportionately high share of the global malaria burden. In 2021, the Region was home to 95% of malaria cases and 96% of malaria deaths. Children under 5 accounted for about 80% of all malaria deaths in the Region.
Malaria is a life-threatening disease spread to humans by some types of mosquitoes. It is mostly found in tropical countries. It is preventable and curable. The infection is caused by a parasite and does not spread from person to person. Symptoms can be mild or life-threatening. Mild symptoms are fever, chills and headache. Severe symptoms include fatigue, confusion, seizures, and difficulty breathing. Infants, children under 5 years, pregnant women, travellers and people with HIV or AIDS are at higher risk of severe infection.
Malaria can be prevented by avoiding mosquito bites and with medicines. Treatments can stop mild cases from getting worse. Malaria mostly spreads to people through the bites of some infected female Anopheles mosquitoes. Blood transfusion and contaminated needles may also transmit malaria.