MATERNAL HEALTH: Scientists recommend essential supplements before conception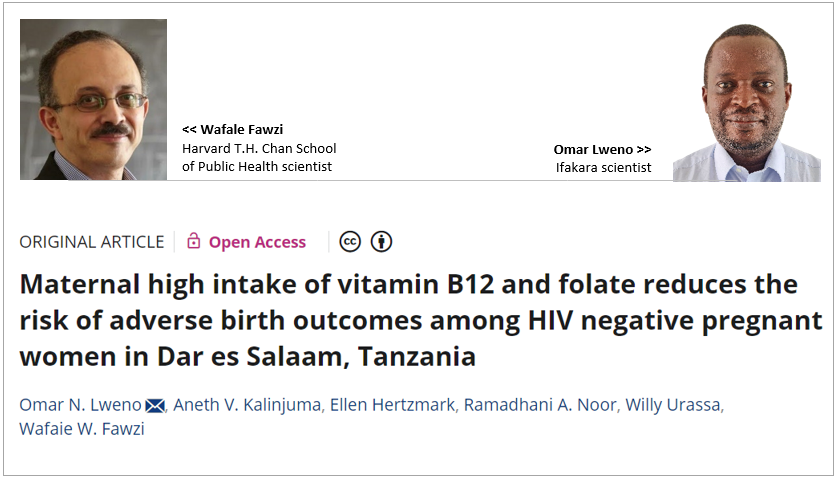 After investigating poor intake of nutritional supplements among pregnant women in Tanzania and found they are linked with adverse birth outcomes, such as low birth weight and premature birth, among others, scientists have recommended provision of these essential supplements before conception.
"The intake of vitamin B12 and folate among pregnant women in urban Tanzania is very low, increasing the likelihood of poor maternal and neonatal outcomes," the scientists warn, recommending provision of "an adequate supply" of these nutrients before and during pregnancy in order to improve pregnancy outcomes in Tanzania.
The scientists involved in the study, which was led by Ifakara Health Institute's Dr. Omar Lweno, say improved nutritional support particularly for expectant mothers would help to address the adverse birth outcomes such as low birth weight, premature birth, small for gestational age babies, and foetal death.
Their findings were published on the Reproductive, Female and Child Health journal, on October 3, 2023.
Essential supplements before conception
They further recommended starting supplementing pregnant women with folic acid before conception, as it has been proven to have the ability to prevent "neural tube defects and other congenital abnormalities". The supplementation should be continued throughout the pregnancy the scientists pointed out.
The study, based on secondary analyses of data collected between 2001 and 2004 in Tanzania, involved 7,633 pregnant women who had enrolled in a trial of multivitamins on perinatal outcomes. The scientists assessed the adequacy of vitamin B12 and folate intake among the participants and the association between the nutrient intake and pregnancy outcomes.
The results were concerning, with 67% of the women having vitamin B12 intake below the recommended dietary allowances (RDAs) for pregnant women, and 98% of women having folate intake below the RDA for pregnant women.
"The majority of women had a low intake of folate, and the benefit of higher intake was evident in spite of all women… receiving folate supplements per standard prenatal care. As a result of the insufficient supply of folate, the higher-than-normal requirements of the developing foetus are not met causing an incomplete gestational period."
Furthermore, the research revealed that women who took vitamin B12 had a 26% reduced likelihood of experiencing preterm birth (PTB), while women who took folate were 21% less likely to experience PTB.
"The strength of this study lies in the simultaneous assessment of micronutrient intakes that are interrelated in their metabolic pathways, that is vitamin B12 and folate, which have shown similar results of association with pregnancy outcomes."
Addressing the issue at hand
According to the scientists, the study highlights the need for increased awareness and interventions to ensure that expectant mothers receive the necessary nutritional support, including access to vitamin supplements, to meet their dietary requirements during pregnancy.
"The appropriate dosage and duration of supplementing with vitamin B12 in pregnant women has not been determined and warrants additional research. Therefore, early and adequate consumption of animal products such as meat, fish, eggs and milk are recommended, together with MMS for pregnant women in Tanzania."
Why vitamin B12, folate essential?
According to scientists, pregnancy is a period of rapid growth and differentiation of cells with an increased need for vitamin B12 and folate to support the high rate of deoxyribonucleic acid (DNA) synthesis for both mother and the foetus.
"The two micronutrients are crucial for converting homocysteine into methionine with the help of the enzyme methionine synthase. When this process is disrupted, it leads to the buildup of unprocessed homocysteine, causing harmful effects in cells and blood."
Learn more about Vitamin B12 here
Contributors of the study
In this study and publication, Dr. Lweno partnered with Aneth Kalinjuma, also from Ifakara along with Ellen Hertzmark and Prof. Wafaie Fawzi – who supervised the study – from the Harvard T.H. Chan School of Public Health, USA. Other contributors are Ramadhani Noor from the UNICEF Country Office, Tanzania and Willy Urassa from Muhimbili University of Health and Allied Sciences (MUHAS), Tanzania.
Read the full publication here