POLICY BRIEF: Tanzania's journey to ending HIV/AIDS by 2030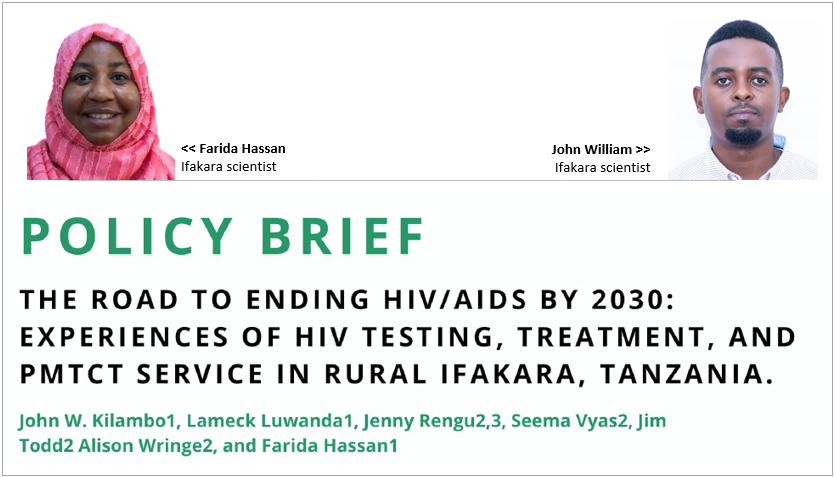 In a latest policy brief, scientists at Ifakara Health Institute, in collaboration with colleagues from the London School of Hygiene and Tropical Medicine, have put forth recommendations to address concerns within Tanzania's HIV/AIDS care services.
The recommendations are designed to address uncertainties regarding the capacity of Tanzania's healthcare services to accommodate the increasing number of patients while maintaining high-quality HIV treatment in accordance with established guidelines.
Assessing Tanzania's health system
The policy brief, titled "The Road to Ending HIV/AIDS by 2030: Experiences of HIV Testing, Treatment and PMTCT Service in Rural Ifakara, Tanzania" shares key findings from the, "Strengthening Health Systems for the Application of Policy to Enable Universal Tests and Treat – (SHAPE UTT)" study, which was conducted in three African countries, including Tanzania.
Carried out between 2013 to 2018, the SHAPE UTT study aimed to assess policy implementation, health system readiness for Universal Test and Treat, and the impact of "Option B+" on health systems.
"In Tanzania, the research was conducted at the Ifakara Health and Demographic Surveillance Site (HDSS), covering the Kilombero and Ulanga East districts in the Kilombero Valley, Morogoro region. This study encompassed communities and health facilities within the Ifakara HDSS area and employed a mixed-methods approach, collecting data over three rounds from 2013 to 2018," describes John William, one of the scientists from Ifakara and the lead author of the study.
Key challenges identified
At the conclusion of the five-year study, four key challenges were revealed which include:
Inadequate HIV testing services for vulnerable populations, such as men who have sex with men (MSM) and people who inject drugs (PWID)

There is uncertainty about the availability of CD4 and viral tests in health facilities, with a limited understanding of their significance

Shortage of qualified staff in health facilities, affecting the initiation and retention of HIV treatment and care

There is a lack of linkage between HIV and ART care for women from reproductive and child health (RCH) clinics to routine ART care after completing two years of post-natal services
Proposed recommendations
To address the challenges highlighted in the SHAPE UTT study, the scientists proposed the following recommendations, enhancing accessibility to HIV testing for vulnerable groups, increasing the healthcare workforce and providing ongoing training, improving the availability and accessibility of CD4 and viral load tests, ensuring a clear understanding of their role and significance, implementing patient-centered approaches and flexible policies, and strengthening the transfer model and empowering women.
Despite these challenges, the scientists highlight Tanzania's significant progress in HIV care services, as evidenced by the country's recent achievement of the 95-95-95 targets confirmed by UNAIDS. The target aim is for 95% of people living with HIV to be aware of their status, 95% of those diagnosed with HIV to be on antiretroviral therapy (ART), and 95% of those on ART to achieve viral load suppression.
"This accomplishment represents a substantial step forward in the fight against the HIV epidemic. However, achieving 100% by 2030 remains a challenging journey that requires immediate attention and action," the scientists note in the brief.
Ifakara and partners involved
The SHAPE UTT study was led by Ifakara scientists John William and Farida Hassan who worked alongside colleagues Lameck Luwanda (Ifakara), Jenny Rengu, Seema Vyas, Jim Todd and Alison Wringe from the London School of Hygiene and Tropical Medicine (LSHTM) in the UK.
To access the complete policy brief, click here.
Additionally, you can find publications related to the SHAPE UTT study through the provided link below:
https://doi.org/10.1080/17441692.2020.1839927
https://doi.org/10.1080/17441692.2020.1763420
https://doi.org/10.1080/17441692.2020.1798486
https://doi.org/10.1080/17441692.2020.1771395
https://doi.org/10.1080/17441692.2020.1805785