PROMISING: Meet this rising star in global health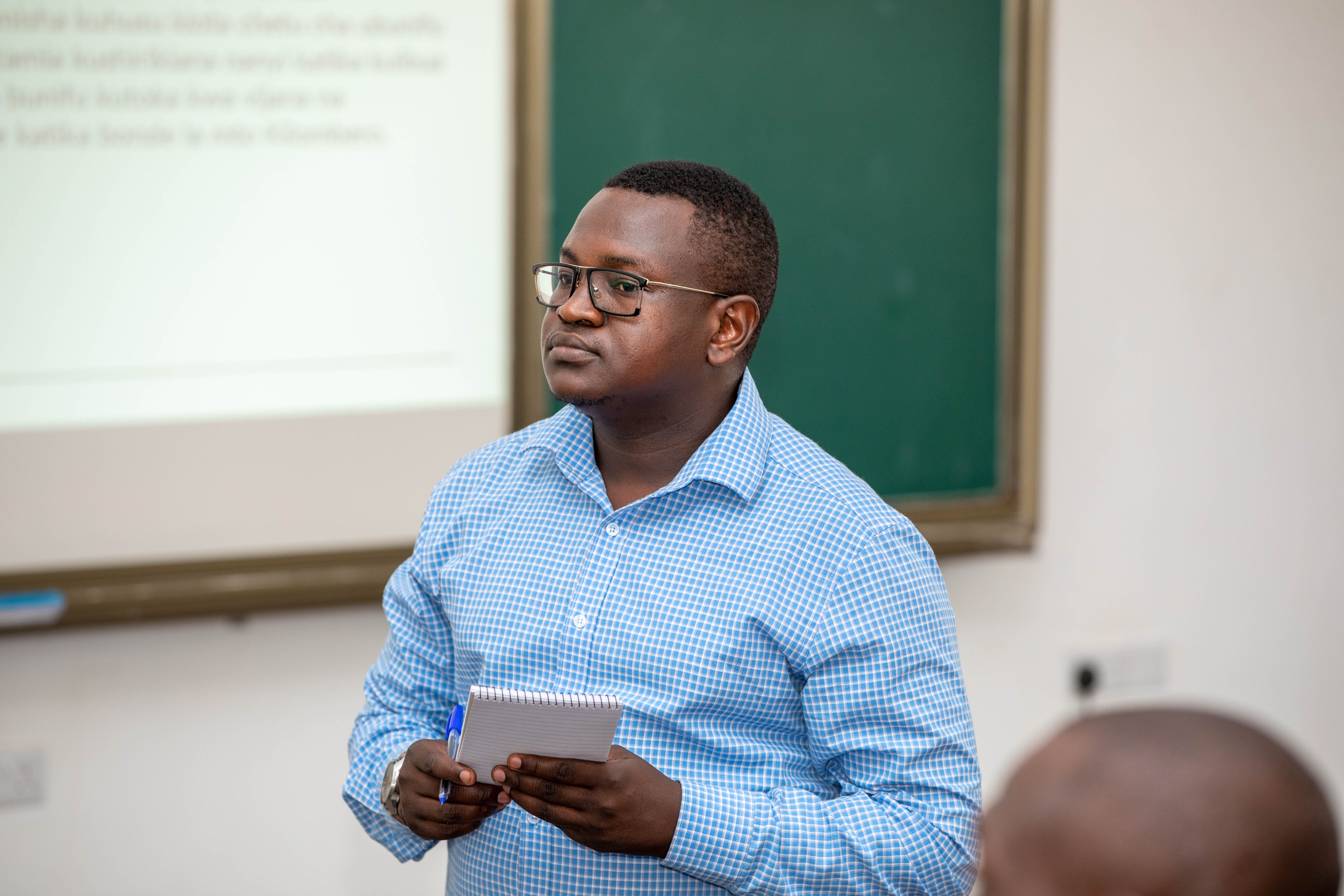 >> Writes Jane Moshi
Ifakara Health Institute's early-career scientist, Issa Mshani, has received the American Society of Tropical Medicine Young Investigator Award for 2023, presented on October 18, 2023. This prestigious award honors outstanding young scientists. Mshani (29), is one of only 18 young scientists to be honored with this award worldwide.
Issa – quite a charming and smart guy – is a PhD student at the University of Glasgow, Scotland in the UK. Glasgow, simply Glas as Scotes themselves refer to, is a prestigious public university in the UK – and one of the oldest (founded in 1451) in the English-speaking world. In the global academia and research space, Glas, once was home to great names in scientific research, including: Lord Kelvin (the father of temperature systems), James Watt (the father of electrical engineering), and Adam Smith (the father of economics). This early-career scientist studies here.
Issa uses new technologies such as infrared spectroscopy (IR) and machine learning (ML) to detect malaria and helps improve how we track it. He also studies mosquitoes and how malaria spreads. He is passionate about global eradication of malaria.
Early years
Issa's scientific journey began as an undergrad, taking the University of Dodoma (UDOM) by storm. For three years 2015-2018, he consistently earned accolades as the "Best Student" in his program and "Best Overall Finalist Student" in the College of Natural and Mathematical Science among 5000+ peers.
Dr. Edward Motto at the UDOM supervised his research which gained Issa recognition as "Best Researcher Finalist Student" in the School of Biological Sciences and Bioinformatics.
He wasn't just a student of academic excellence though; he also demonstrated strong leadership skills. As proof, he assumed the role of "Minister of Education" within the University of Dodoma Students Organization.
His outstanding achievements led to national recognition by the Tanzania Higher Learning Institutions Students' Organization, which awarded him the "Tanzania Higher Learning Institutions Best Performance Medal" in 2019, establishing him as a rising star in Tanzania's biological sciences.
The journey at Ifakara
In 2019, he interviewed with and left a strong impression on Dr. Issa Lyimo, Chief Research Scientist, and Dr. Emanuel Kaindoa, who currently heads the Environmental Health and Ecological Sciences (EHES) department, Mshani joined IHI as an intern.
Shortly after he swiftly drew the interest of the former Director of Science, Prof. Fredros Okumu. He reflects, "Upon joining IHI, I dove into collaboration with Fredros. He recognized my potential and guided my transition from fundamental biology research to the realm of computational biology. Together, we initiated projects focused on applying Artificial Intelligence in public health."
Motivated through mentorship
From the start, Issa had a passion for teaching. However, one of his mentors wisely advised him to first acquire practical experience in the field before pursuing a teaching career. "I've had the privilege of interacting with highly accomplished scientists, like Prof. Okumu, who serves as my primary mentor and received this award 15 years ago. It was through him that I learned about this recognition. Additionally, my supervisors, Dr. Francesco Baldini and Dr. Simon A. Babayan from the University of Glasgow, are past recipients of this same award. Their remarkable accomplishments inspire me and drive me to strive for their level of success…that's been my first motivation" he reflects.
The second motivation is to justify the faith and trust placed in you. "When I first joined IHI, Fredros immediately assigned me to lead three projects. The projects opened many doors for me, including the opportunity to pursue my PhD at the University of Glasgow. Trust comes with a debt to do well, that's what motivates me!"
"IHI is filled with talented scientists doing amazing work. Being surrounded by such highly experienced and motivated colleagues also keeps you on your toes. One needs to be just as motivated to pursue excellence, that's the third" he says.
Issa is also a man driven by his heart, he describes his passion as "Generating knowledge for health impact," in line with IHI's strategic direction. He explains, "All the work I do has a direct link to the public, even this study I submitted for the award. I am always interested to see the direct impact the work I do has on the lives of people." He added "as a scientist, you have a duty to provide the solutions, innovations, and technologies to transform the health of the community."
About the study that won
For the award, he entered his innovative project focused on creating a new tool for malaria detection. This device leverages AI technology to identify even the smallest traces of malaria in a patient's blood. Its user-friendly and cost-effective design makes it a game-changer in malaria detection, offering the potential to make a substantial impact on the global effort to eradicate malaria.
A Community of distinguished scientists
Issa extends his heartfelt dedication of this award to his colleagues at IHI and the VectorsGlasgow group at the University of Glasgow. He emphasizes that the path to winning the award was no easy feat, with over 500 submissions from more than 100 countries worldwide.
To him, this accolade signifies that he is progressing in the "right direction." He further comments, "This recognition represents a significant milestone in my journey as a young African scientist, aligning me with the ranks of esteemed global healthcare leaders such as Dr. Tedros Ghebreyesus, the Director-General of the World Health Organization, who himself was once honored with this award in his early career, as well as Prof. Okumu, Dr. Baldini, Dr. Babayan, and countless other distinguished scientists worldwide. It's a community of distinguished scientists."
Upon hearing the news of his win, former Director of Science, Prof. Okumu, shared, "This young man, Issa, is always winning. And I think he will continue to do so. If you know him, you'll understand why we're not surprised. I believe the peer-to-peer mentorship program they're engaged in at IHI is contributing to these achievements. I anticipate many more to come. All in all, we're truly blessed with some exceptional PhD and MSc students lately."
Dr. Kaindoa expressed pride by saying "This award underscores Issa's exceptional dedication and contributions to malaria control in Tanzania and beyond, serving as an inspiring example within the scientific community. It has also increased IHI's visibility, fostering new collaborative opportunities. The EHES department is committed to nurturing individuals like Mshani to realize their full potential and advance the institute's research excellence, aligning with our shared mission of addressing health challenges."
The Director of Science at IHI, Dr. Ally Olotu says, "This achievement not only brings honor to our institution and Tanzania but also reaffirms our commitment to cutting-edge research and global health impact. His innovative work in computational biology, leveraging infrared technology and AI to accelerate malaria control efforts in endemic areas, holds the potential to reshape malaria research and control."
The road ahead
Mshani's vision extends beyond personal achievements. He's passionate about training and mentoring young scientists, passing on his wisdom and opportunities to foster a new generation of global health leaders. He says "I want to guide young scientists the same way I was guided, hopefully offering them even better opportunities, so that they can achieve more". This commitment ensures the continuation of scientific progress and inspires positive change.
His professional background – in a nutshell
Issa is a computational medical biologist at the Ifakara Health Institute in Tanzania and a PhD student at the University of Glasgow. His expertise centers on utilizing infrared spectroscopy (IR) and machine learning (ML) to detect malaria parasites in both field surveys and clinical environments. Issa has significantly advanced the field by creating the initial target product profiles, offering a roadmap for the integration of IR-ML into routine malaria surveillance.
Furthermore, he is dedicated to implementing machine-learning algorithms in web-based platforms for forecasting critical malaria indicators. In addition to his work with IR-ML, Mshani conducts research on diverse aspects of malaria, encompassing the dispersal abilities of disease vectors, novel biological markers, and the natural age structures of mosquito populations.
With an unyielding commitment to knowledge and a fervor for effecting change, he is resolutely focused on discovering solutions that contribute to the global eradication of malaria.
_________
Jane Moshi is a Communication Officer at Ifakara Health Institute.