ENGAGEMENT: Ifakara project showcases research work at NIMR scientific conference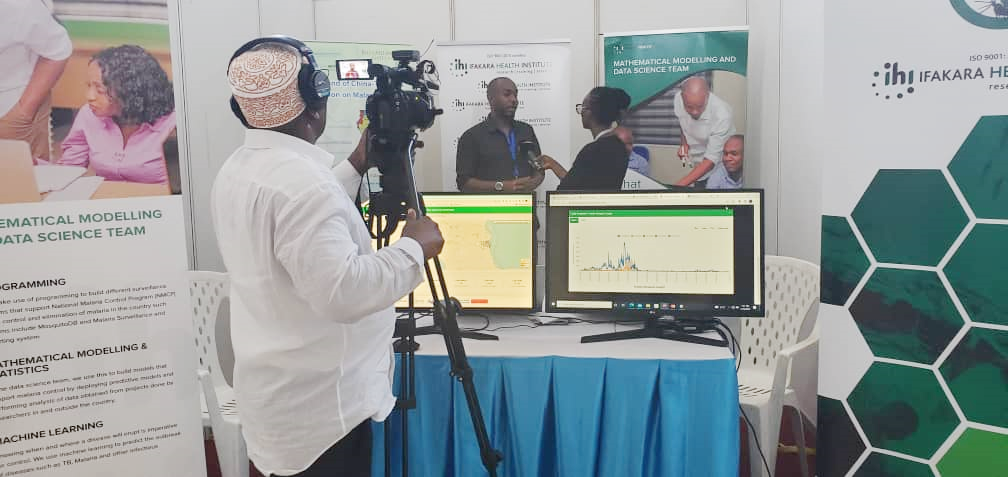 Ifakara Health Institute's Mathematical Modelling and Data Science Capacity Project, led by Dr. Samson Kiware, participated in this year's Annual Joint Scientific Conference (AJSC) organized by the National Institute for Medical Research (NIMR) in Dar es Salaam.
The annual conference – on its 31st edition – started on May 17th 2022 and ended today, featured a series of presentations on research findings from NIMR and its centers, and provided space for researchers to display and showcase their research work.
The Ifakara booth attracted dozens of visitors as well as mainstream media outlets who sought more information about various research work and other services, including mathematical modelling and data science.
Vice President, Dr. Philip Mpango, graced the opening event on May 17th 2022. In his remarks, he urged stakeholders to tap into digital technologies designed to address health challenges facing Tanzania. "The conference has to examine how the country grapples with COVID-19, polio and non-communicable diseases," he said.
About the NIMR AISC
The main theme for 2022 AJSC was "A Multi sectoral Approach for Health: An Agenda for Health Systems Strengthening Towards Achieving Universal Health Coverage" which organizers believe it's timely in Tanzania as the global health community reiterates that in order to achieve the universal health coverage, there is a need of strengthening the countries' health systems while also improving coordination of Health System Strengthening efforts.
The AJSC brought together various stakeholders to address and recommend solutions for major health challenges grouped into nine major subthemes, including but not limited to prevalent, emerging and re-emerging infectious diseases, neglected tropical diseases, traditional medicine, antimicrobial resistance, environmental health and climate change, non-communicable diseases, nutrition, reproductive, maternal, child and adolescent health. The conference also addressed new health innovations and technologies.
A total of 400 participants attended - of these 46 were speakers and presenters on the conference themes and sub-themes. Five key plenary session were conducted in the course of three days of the conference.