LIVE TV PROGRAM: GECO project to raise awareness on non-communicable diseases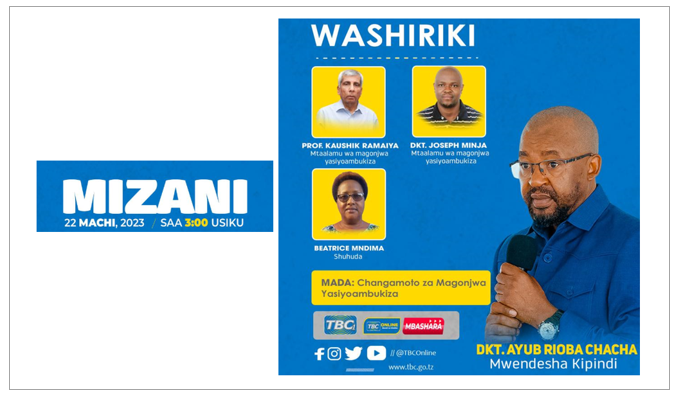 The Global Effort on COVID-19 (GECO) project has sponsored a TV program to educate the public and raise awareness on non-communicable diseases (NCDs). A special focus will be on how best the diseases, particularly diabetes, can be managed during emergencies and outbreaks such as COVID19.
The program will be broadcast live for one hour on the national television – TBC1 from 9 o'clock tonight and simultaneously streamed live on TBConline and Ifakara Health Institute social media channels – Twitter, Facebook and the Ifakara Science Channel on YouTube.
An influential and flagship weekly show on TBC1, "Mizani" – literally translating "the balancer" – will be used to air the GECO TV program. The host of the program is Dr. Ayub Rioba, the TBC Director General. The program will be broadcast in Kiswahili, but for those who will be following it virtually on YouTube, they can switch to see sub-titles in any languge of their choise there.
Viewers following the livestream and broadcast will have the opportunity to engage with the program host and experts in the studio through direct calls and instant messages on their social media channels of choice to ask questions and share their comments or give any feedback on the subject.
The program will feature non-communicable disease (NCD) experts, Prof. Kaushik Ramaiya and Dr. Joseph Minja who will share the education and thereby raise awareness on best practices for managing NCDs, particularly diabetes, during disease outbreaks such as COVID19. The two are among the lead experts who supported the GECO study.
In the TBC1 studio as well will be Ms. Beatrice Mndimi – a volunteer GECO study participants – who lived with diabetes for eight years now. She will give a testimony of her experience of managing the illness during COVID19.
Purpose of the TV program
This engagement through a TV program and social media aims to educate and raise awareness on how best people with NCDs, particularly diabetes, can manage their illness during disease outbreak using rich evidence of experiences gathered by the GECO study.
In the process, the program intends to promote COVID vaccine uptake and improve diabetes patient illness management during disease outbreaks.
More About GECO
The GECO project is implemented by Ifakara Health Institute in collaboration with the African Population and Health Research Center (APHRC) and the University of Glasgow. The project was funded by UK Research and Innovation (UKRI) and Medical Research Council (MRC).
The Project was implemented for 18 months from September 2021 to explore the experiences of people with type two diabetes and healthcare providers in managing this type of diabetes during the COVID-19 crisis in Tanzania and Kenya.