#PAMCA2023 DAY2: Ifakara innovations in the fight against malaria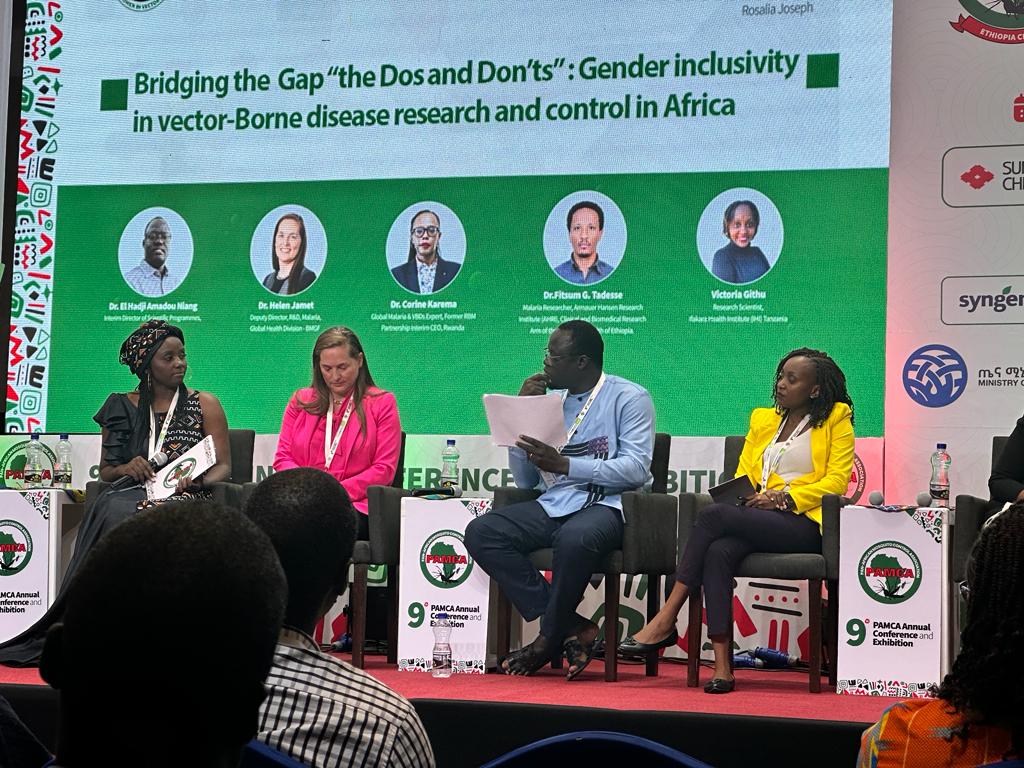 The second day of the Pan-African Mosquito Control Association (PAMCA) conference in Addis Ababa, Ethiopia saw insightful presentations and discussions from Ifakara scientists Selemani Mmbaga, Fatuma Matwewe and Victoria Githu surrounding innovative approaches to combat malaria and mosquito-borne diseases.
Novel approach to mosquito control
Selemani Mmbaga presented findings from a study exploring innovative strategies to combat malaria-carrying mosquitoes in Tanzania. Traditional methods like mosquito nets and sprays have become less effective due to mosquito adaptations. The research employed specialized traps in various regions of Tanzania and identified factors such as the absence of window screens and outdoor cooking as mosquito attractants.
Particularly notable was the discovery that some mosquitoes prefer outdoor biting when people are engaged in outdoor communal activities. To enhance malaria control, the study recommends the incorporation of supplementary methods targeting these outdoor-biting mosquitoes, especially in impoverished rural areas.
Pioneering research with special mosquitoes
Fatuma Matwewe presented a groundbreaking initiative aimed at stopping malaria transmission by using genetically modified mosquitoes that cannot spread or succumb to the disease. To assess the effectiveness of these unique mosquitoes, a laboratory was established in Tanzania. The research involves subjecting these modified mosquitoes to malaria in a controlled environment to prove their efficacy.
Women in vector control
Victoria Githu, a young scientist at Ifakara, participated in a panel discussion about gender inclusivity in African vector-borne disease research and control. The event, organized by PAMCA Women in Vector Control (WiVC), highlighted the need to remove barriers that limit women's involvement in this field.
As PAMCA2023 unfolds, these innovative ideas and scientific breakthroughs have the potential to spark fresh approaches to malaria control not just in Africa but also globally. Sharing these insights at PAMCA 2023 shows the unwavering commitment of these experts from Ifakara to collaborate on the ongoing fight against mosquito-borne diseases.
>> Find out more about PAMCA here