FORUM: Ifakara showcases excellence at US conference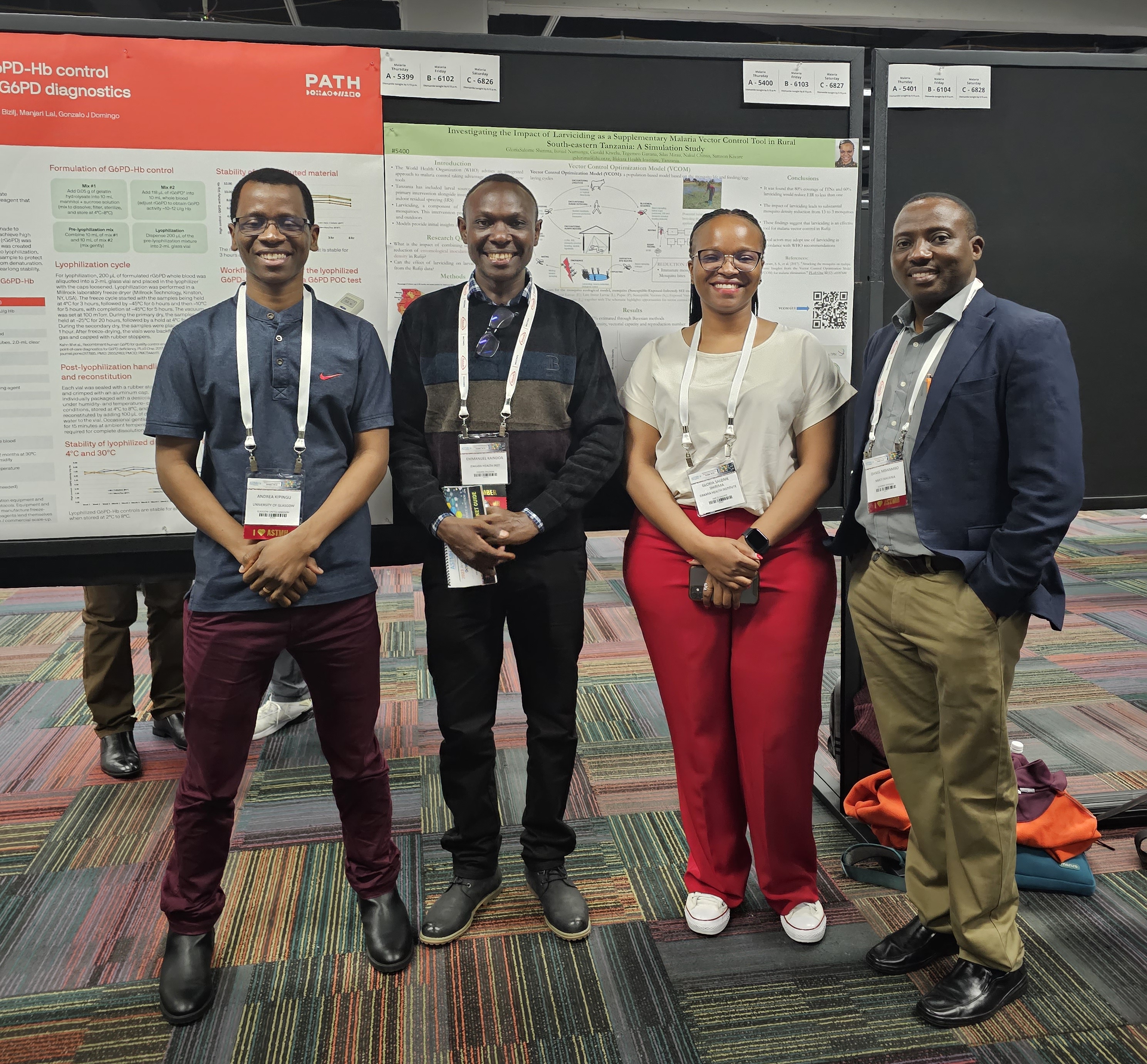 Ifakara Health Institute scientists demonstrated exceptional expertise through powerful presentations at the American Society of Tropical Medicine and Hygiene (ASTMH) conference. They flew the IHI flag high!
About the conference
The ASTMH conference, running from October 18 to 22, 2023, in Chicago, United States, draws tropical medicine and global health professionals from around the world to share practical insights and strategic visions. The five-day conference includes plenary sessions, poster sessions, and exhibitions.
Learn more about the conference here.
Ifakara's participation
Members of the EHES team at Ifakara, including Naomi Urio, Yohana Mwalugelo, Andrea Kipingu, Emmanuel Hape, and Herieth Mahenge, presented impactful posters that drew the crowd's attention to the brilliant work being done at IHI.
Gloria Shirima, a Modeler at IHI's Data Science and Mathematical Modelling unit, presented the work being done to understand changes in mosquito-biting patterns. This study may help to improve malaria control in Tanzania.
Gloria said " Attending the ASTMH meeting was a pivotal experience for me as an early-career
scientist in the field of Tropical Health to be specific in malaria and modeling. The conference gave me a unique opportunity to meet and engage with fellow scientists whose research findings have significantly broadened my knowledge base. This has served as a powerful motivator, it fueled my eagerness to collaborate more extensively and work harder in this field, especially as a young woman in STEM (Science, technology, engineering, and mathematics).
Dr. Emmanuel Kaindoa, Head of EHES, describes the conference as an invaluable platform where team members are thriving and "building valuable connections."
Shinda Malaria
One of Ifakara's biggest projects, Shinda Malaria was represented by Dr. Dunstan Bishanga, Chief of Party for
Shinda Malaria, and Francis Livera, Senior Monitoring and Evaluation Officer, where they presented the project works through impactful posters drawing the attention of the PMI Global Coordinator and PMI Tanzania mission representatives, who paid them a visit.
Ifakara gets a win!
Annually, the ASTMH acknowledges the contributions of exceptional early-career researchers by bestowing upon them the Young Investigator Award. This award is granted as part of a yearly competition conducted on the inaugural day of the conference. The aim of this award is to inspire and support young scientists in their pursuit of careers across diverse domains within tropical disease research.
Learn more about the award here
The award is a symbol of excellence in the field of tropical medicine and hygiene. To win it is no small feat; it requires dedication, perseverance, and groundbreaking research. Issa has not only made IHI proud but has also contributed significantly to the scientific community.
15 years in the making
This victory is not just a personal accomplishment; it's a testament to the dedication of Ifakara's scientists to advance the frontiers of science. The last time IHI celebrated such an achievement was 15 years ago when Dr. Fredros Okumu received a similar accolade.
Mshani expressed his gratituted by saying "This is not just good news; it's historical and a moment to be celebrated by all of us." Read more about what he had to say here.
Dr. Ally Olotu, said "With over 500 submissions from more than 100 countries worldwide, this achievement not only brings honor to our institution and Tanzania but also reaffirms our commitment to cutting-edge research and global health impact.