WORKERS DAY 2021 MESSAGE: We're committed to a world of work with justice and dignity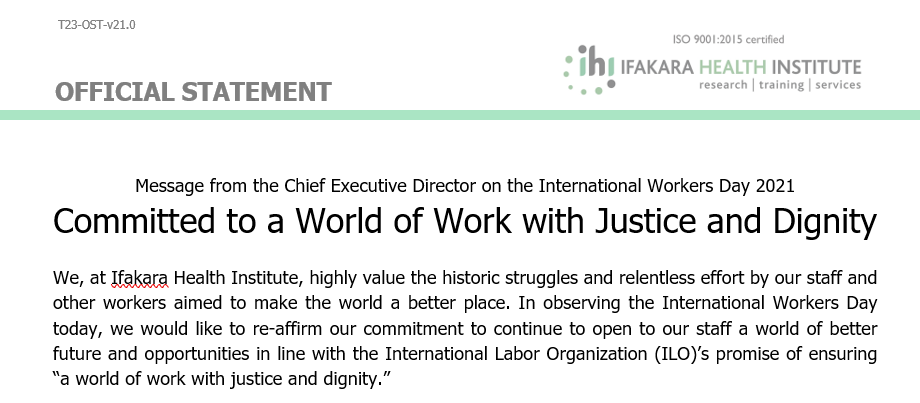 Efforts to make the world a better place valued
Ifakara Health Institute has expressed commitment to ensure a world of work with justice and dignity in line with the International Labor Organization (ILO)'s central message for this year's International Workers Day, "joining forces to bring in a world of work with justice and dignity for all."
In his message to staff, partners, and other workers, Ifakara Health Institute Chief Executive Director, Dr. Honorati Masanja, says the Institute highly values the historic struggles and relentless effort by IHI staff and other workers aimed to make the world a better place.
"In observing the International Workers Day today, we would like to re-affirm our commitment to continue to open to our staff a world of better future and opportunities," reads in part, Dr. Masanja's official statement posted on the Institute's website and social media channels.
No one is safe until everyone is safe!
He also takes advantage of the commemoration as an opportunity to remind workers to remain vigilant as the Day was being observed amidst COVID-19 crisis. "This year again, we mark this Day with the COVID-19 pandemic still in our midst. Therefore, we should remind ourselves on the importance of always taking all the necessary precautions by following recommended guidelines; observe the advises given by health experts and comply with the directives issued by authorities," he says, underling:
"We should keep our guards on until we're sure that we're free of the pandemic because no one is safe until everyone is safe."
Worker dedication, commitment saluted
Dr. Masanja concludes by saying, "The IHI Management acknowledges and celebrates the amazing efforts of all our staff and partners. We honor your efforts and salute your hard work. And, we greatly value your contributions in any position that you serve, believing that, with sustained commitment and dedication, you have the power to change this world and live our mission of improving the health and wellbeing of people."
Read the Message | English | Kiswahili
ILO director calls for solidarity as key to workers' "common survival and prosperity"
In a statement issued to mark #WorkersDay2021, ILO Director-General, Guy Ryder, calls on workers, employers, governments, international organizations and all who are committed to building back better, to join forces to bring in a world of work with justice and dignity for all.
Read the ILO Director's message | Watch to listen to the ILO Director's message.
#WorkersDay2021 | #InternationalWorkersDay2021 | #IfakaraEvents