SYMPOSIUM: Prof. Marcel Tanner discusses malaria strategies at Ifakara masterclass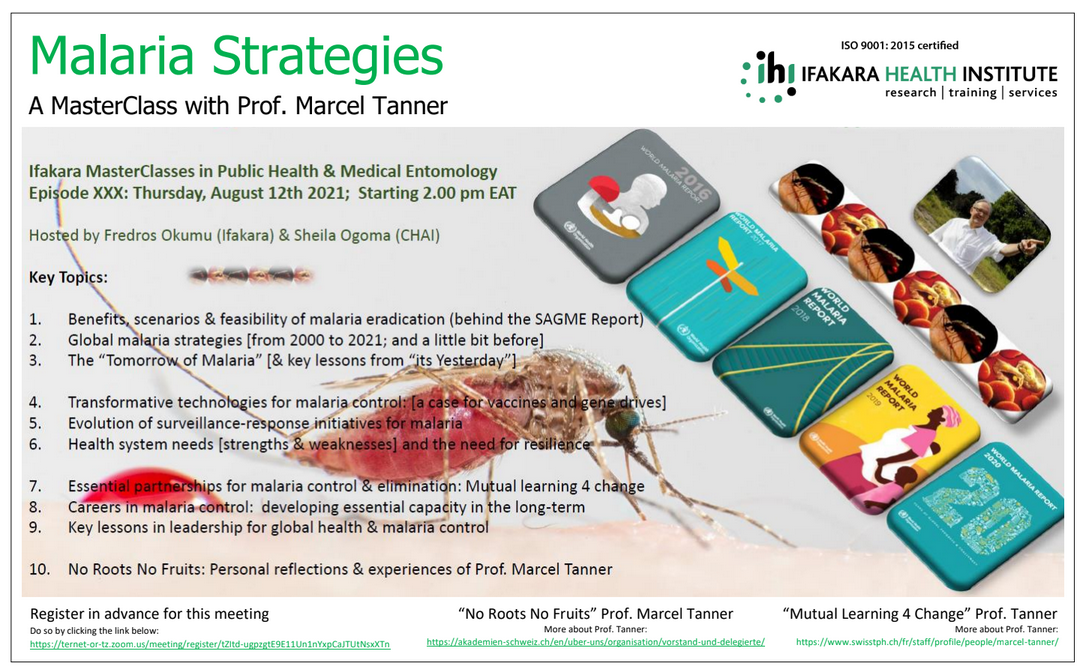 Marcel Tanner, Chair of the Epidemiology and MediUniversity cal Parasitology of the University of Basel, was the primary speaker at a masterclass hosted by Ifakara Health Institute on August 12, 2021 – being part of a series of such classes on public health and medical entomology.
Prof. Tanner is the former Director of the Swiss Tropical & Public Health formerly Swiss Tropical Institute (STI) and former Ifakara Director before the Institute was transformed to become Ifakara Health Institute we see today.
The masterclass, whose title was: "Malaria Strategies," was held virtually and streamed live on the Ifakara Science Channel, on August 12th, 2021 from 2pm EAT. It was hosted by Dr. Fredros Okumu, Ifakara Director of Science and Sheila Ogoma, Technical Advisor Malaria Entomology at the Clinton Health Access Initiative.
Key topics during his discussion included: benefits, scenarios & feasibility of malaria eradication (behind the SAGME Report); global malaria strategies [from 2000 to 2021; and a little bit before]; the "Tomorrow of Malaria" [& key lessons from "its Yesterday"]; and transformative technologies for malaria control: [a case for vaccines and gene drives].
Other topics were: evolution of surveillance-response initiatives for malaria; health system needs [strengths & weaknesses] and the need for resilience; essential partnerships for malaria control & elimination: Mutual learning for change; careers in malaria control: developing essential capacity in the long-term; key lessons in leadership for global health & malaria control; and "No Roots No Fruits" reflecting on his own personal reflections & experiences.