Visual Analysis of Long Lasting Insecticidal Nets to Maximize Universal Access "ViALLIN"
Principal Investigator: Dr. Sarah Moore
Project leader/ Coordinator: Emmanuel Mbuba
Project Administrator: Ritha Kidyalla
Funding Partner: SWISS Tropical and Public Health Institute (SWISS TPH)
Start date: Feb. 7, 2023
End date: Aug. 31, 2026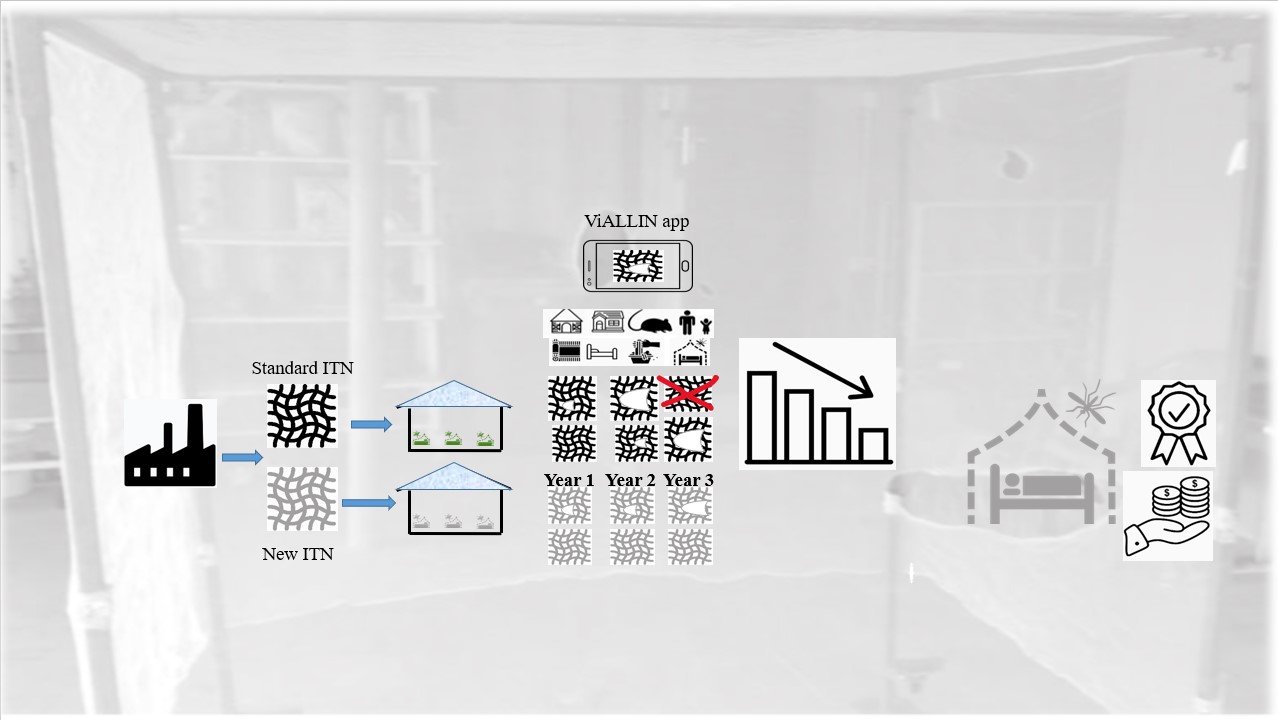 Visual Analysis of Long Lasting Insecticidal Nets to Maximize Universal Access "ViALLIN"
This project's goal is to develop a digital data collection app 'ViALLIN' that will enable national malaria control programs in Tanzania to improve planning for programmatic Long-lasting insecticidal nets (LLINs) distribution, monitoring of LLINs quality and selection of the best product according to contextual settings.
The data collection app, ViALLIN, will allow researchers to collect images of LLINs and to measure LLIN durability based on hole surface area analysis. This analysis will be combined with household and user characteristics to predict LLIN coverage for the following year and to optimize LLIN planning and distribution.
The economic benefit of improved LLIN design in terms of effective malaria prevention and its annual cost will be calculated. Overall, increasing mosquito net lifespan will optimize resource use, increase children's protection from malaria and reduce the disease's transmission in endemic areas.
Primary Objectves of the project include;
To simplify and optimise the measurement of ITN durability through the ViALLIN data collection app

To predict the probability of a net being in use the following year by analyzing images and household factors collected with the app

To improve child access to high quality ITN through demonstrating the economic benefit of improved years of protection per $ outlay

To Integrate essential ITN durability data into data sources used by national malaria control programs so i) ITN performance is monitored and ii) ITN are distributed at appropriate intervals to maximise coverage
The project will close the ITN coverage gap by making ITN durability part of routine surveys and incentivizing procurers to select quality over price by demonstrating cost savings of more expensive but longer-lasting ITNs.
The study location for the project include Tandahimba, Chalinze, Ulanga & Magu council in Tanzania.
The project is funded by Botnar Research Centre for Child Health (BRCCH) through the Swiss TPH. The project duration is three years beginning from February 2023 until August 2026.